UC Berkeley rates 2nd in college campus crime rates throughout the US. Existing resources like Bear Walk and buses are not efficient/reliable options. We wanted to find a way to to improve campus safety and make campus resources more available to students, especially at night after studying at libraries or partying until midnight. Thus, we began our journey to create the ultimate solution: Ubear.
Jasmine Li, Sally Tran, Lucy Xiao, Aneesha Lugani, Essie Xu
Our team used sticky notes to target some of the main problems/dilemmas students current face, such as inefficiency in existing campus resources Bear Walk (30 minute+ wait time), and Uber which can be too expensive for college students. 
We decided to interview a variety of students from people who love late night food, to studying late on campus, to partying.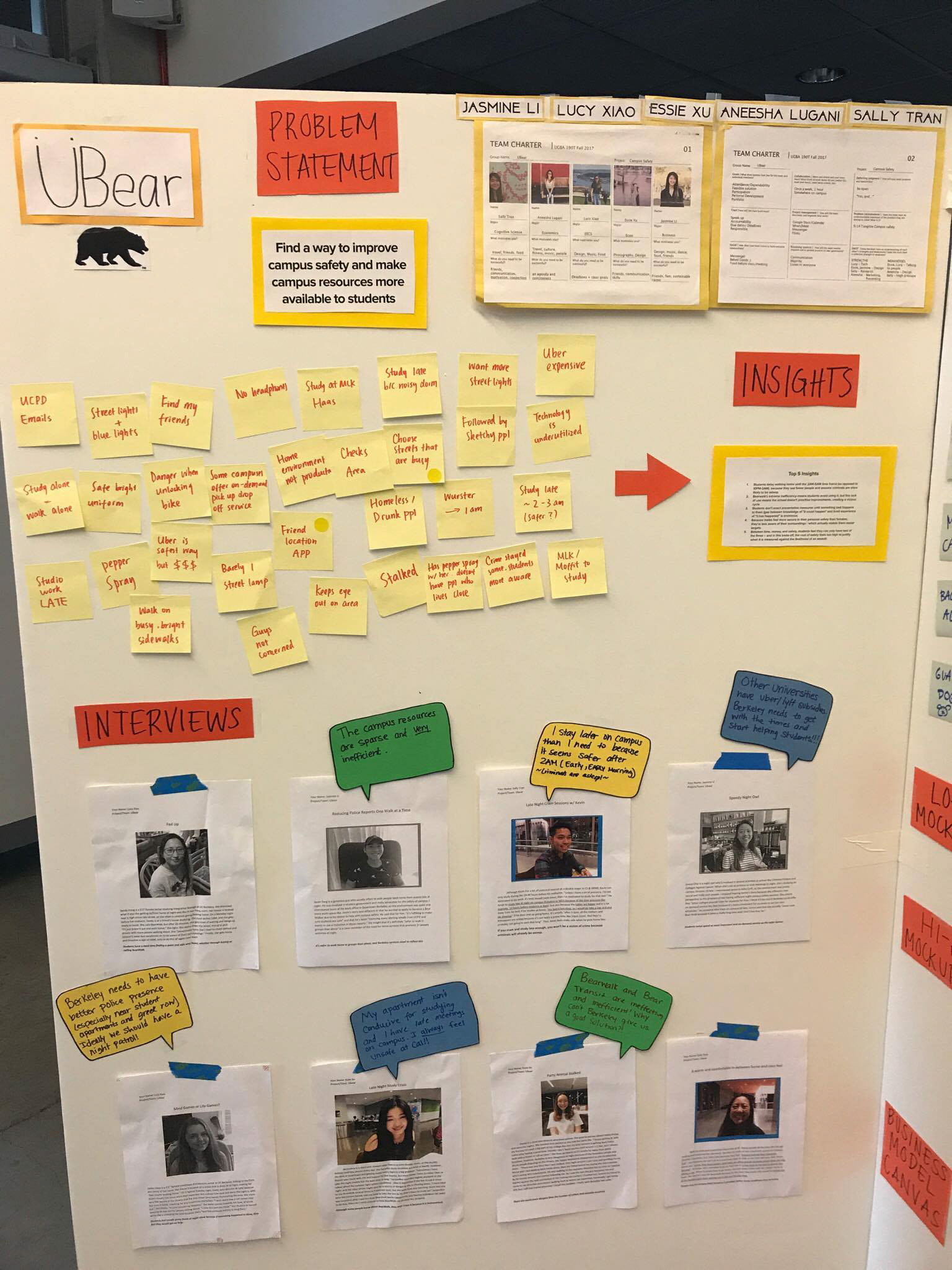 After interviewing 8 Berkeley students, we obtained 5 main insights:
1. Some students delay walking home until the 2AM-6AM time frame  because they see fewer people and assume criminals are more likely to be asleep. 
2. Bear Walk's extreme inefficiency means students avoid using it, but this lack of use means the school doesn't prioritize improvements, creating a vicious cycle. 
3. Students don't enact preventative measures until something bad happens to them (gap between knowledge of "it could happen" and lived experience of "it has happened" is enormous 
4. Because males feel more secure in their personal safety than females, they're less aware of their surroundings - which actually makes them easier targets. 
5. Between time, money, and safety, students feel they can only have two of the three – and in this trade-off, the cost of safety feels too high to justify when it is measured against the likelihood of an assault.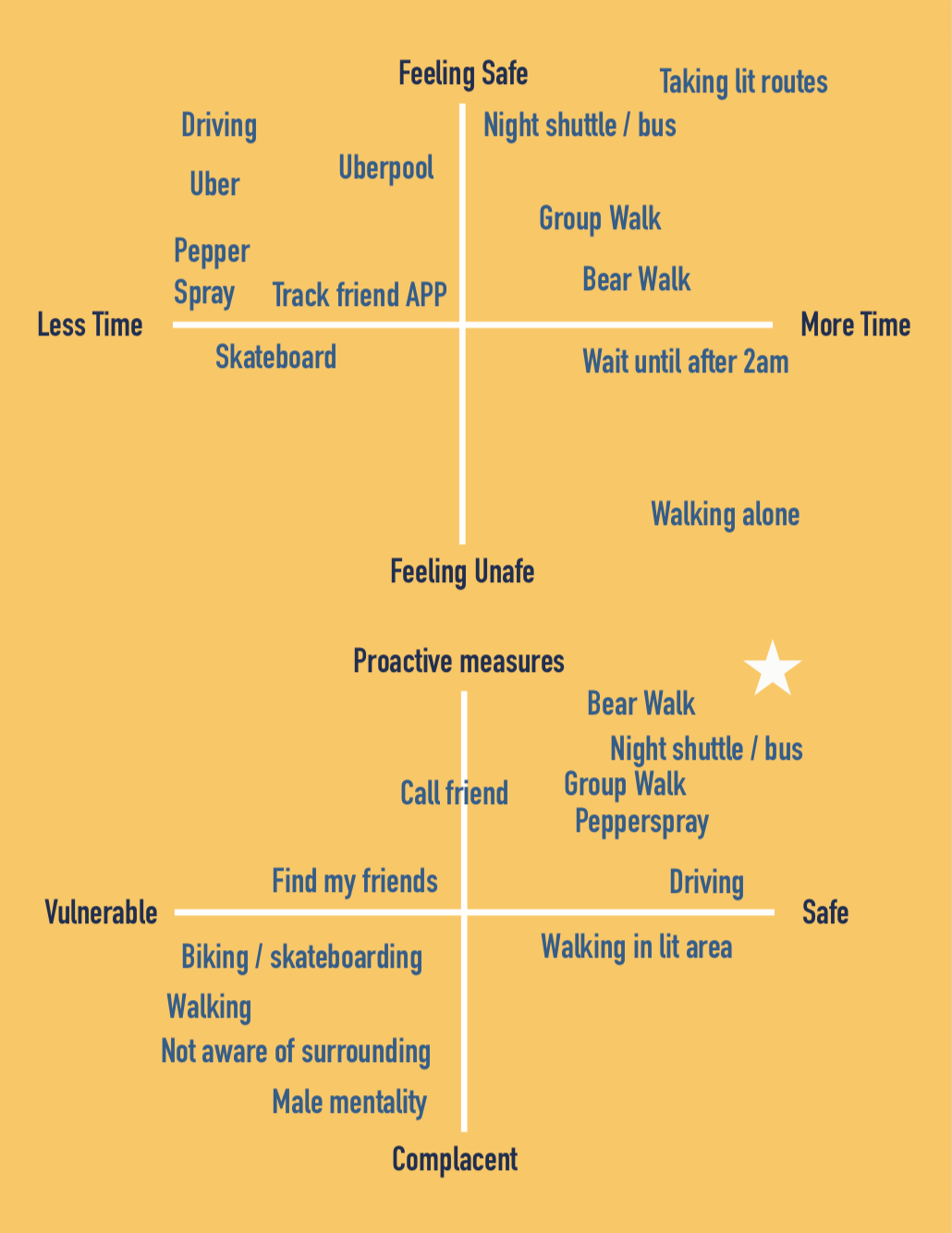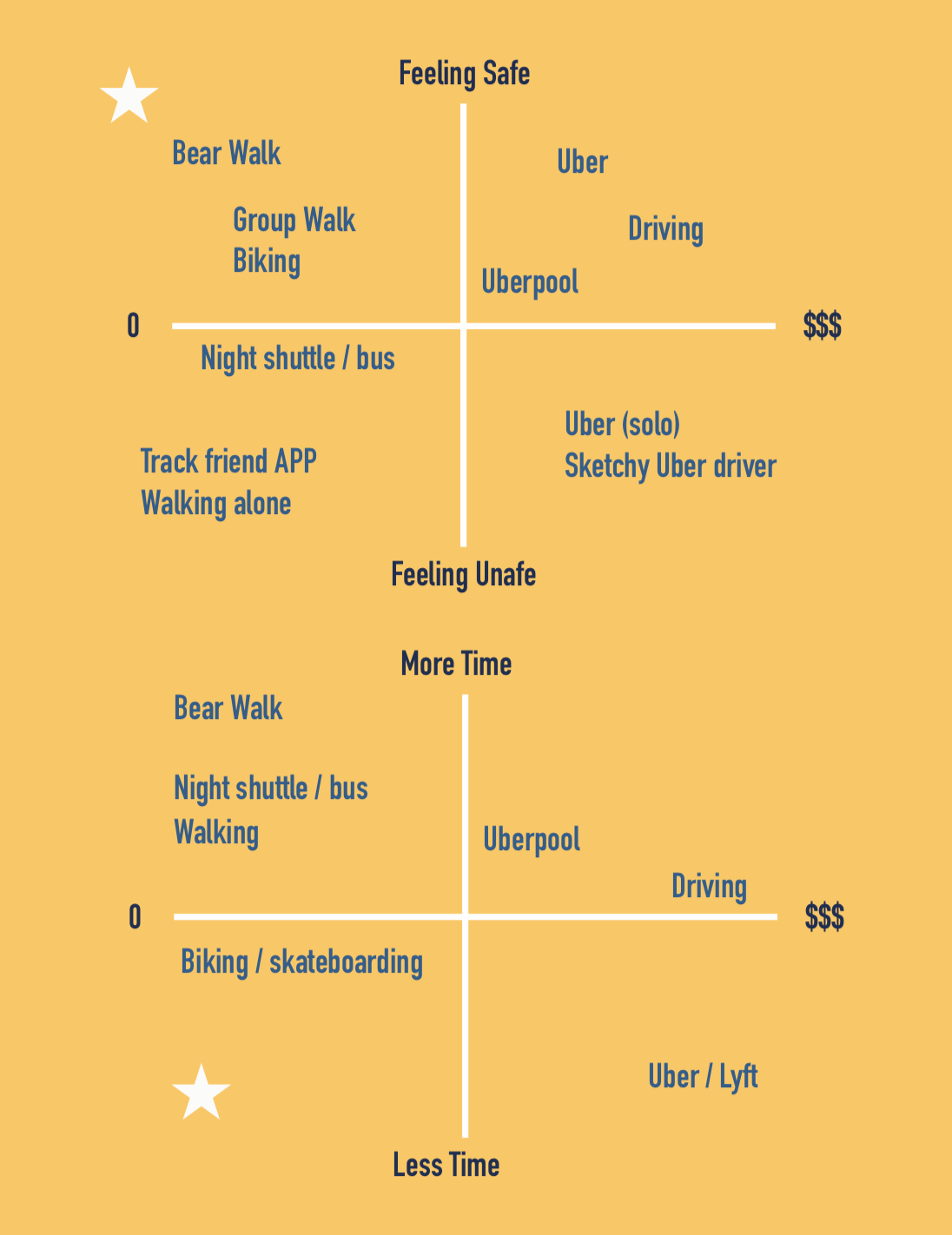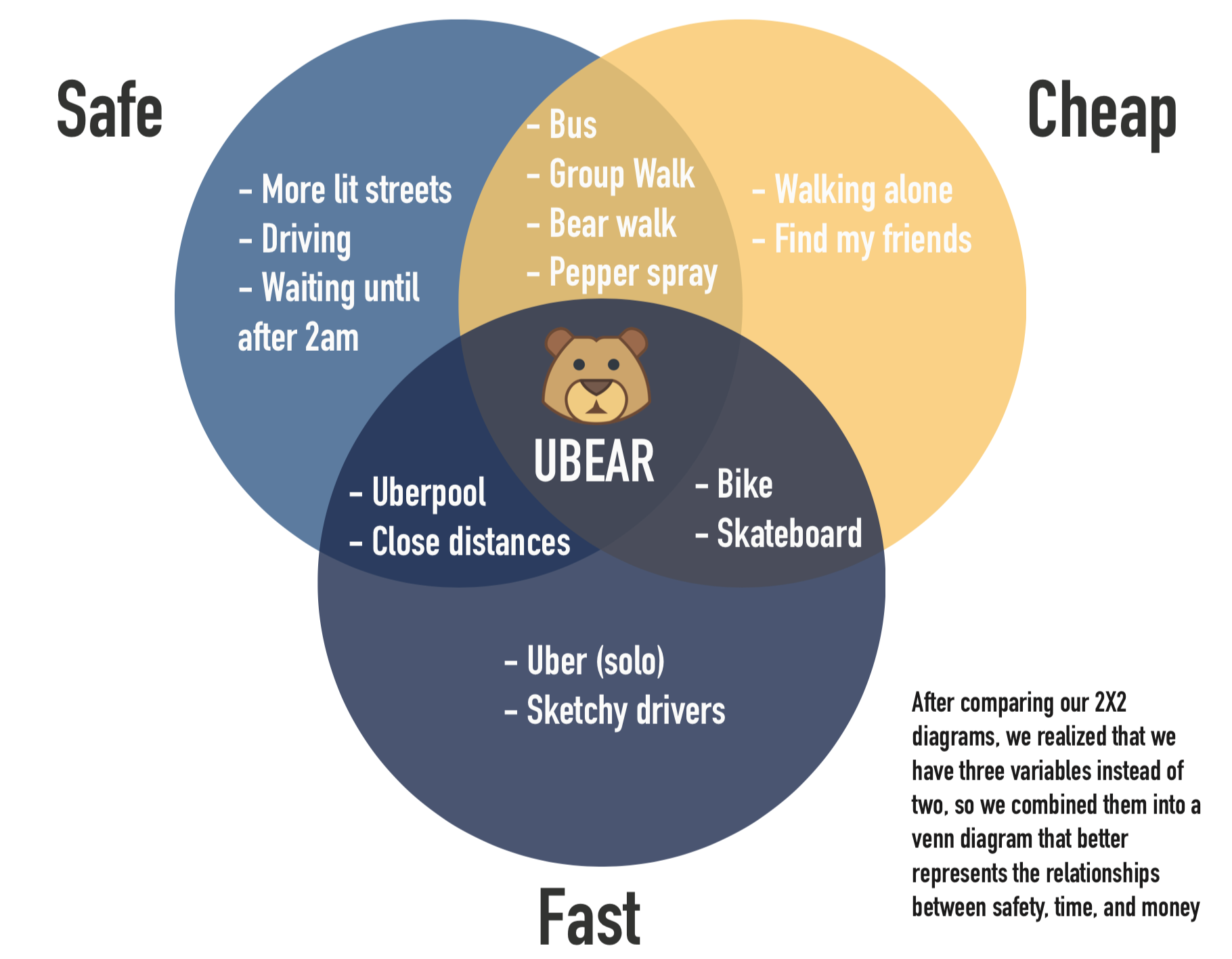 We made 2X2 diagrams attempting to explore the relationship between time, safety, and cost, and realized that there is always a compromise between one or two elements. Combining everything into the Venn diagram we generated the how might we statement:
How might we create a SAFE, FAST, and CHEAP method to get students from point A to point B?
After a series of brainstorming we narrowed down to four possible solutions:
1. Berkeley Uber/Lyft Program sponsored by the school (too $$$) 
2. Student Car or Bike Share: Ride-sharing service in which Berkeley students who have cars can pick up/drop off students within a certain radius of the school campus 
3. Enhanced Bus System Features
a) App in which students create profiles and can view locations of other students, similar to Find my Friends 
b) Students can connect with each other and meet up at designated locations on campus to walk home together 
Eventually we decided to create a mobile APP that combines Uber and Bear Walk together - Ubear. It allows students to find the campus provided service Bear Walk more easily, and also allows students to match with others and walk home together. Profiles are linked to their Calcentral meaning that only Berkeley students can use this service. It's cheap so broke college students don't need to worry about Uber costs, it's fast because the match is way faster than Bear Walk, it's safe because it allows students to walk together, and it even has the extra benefit of socializing.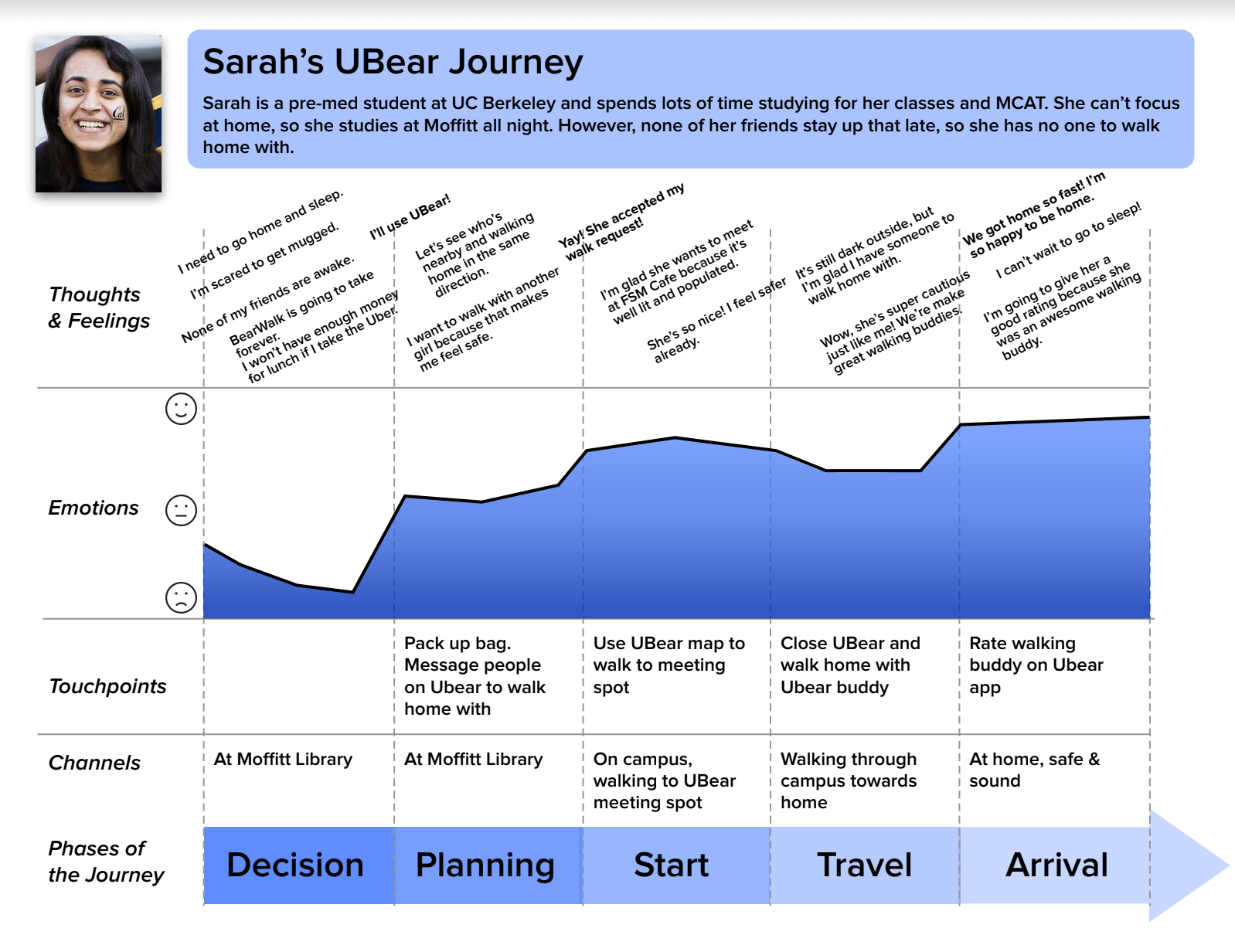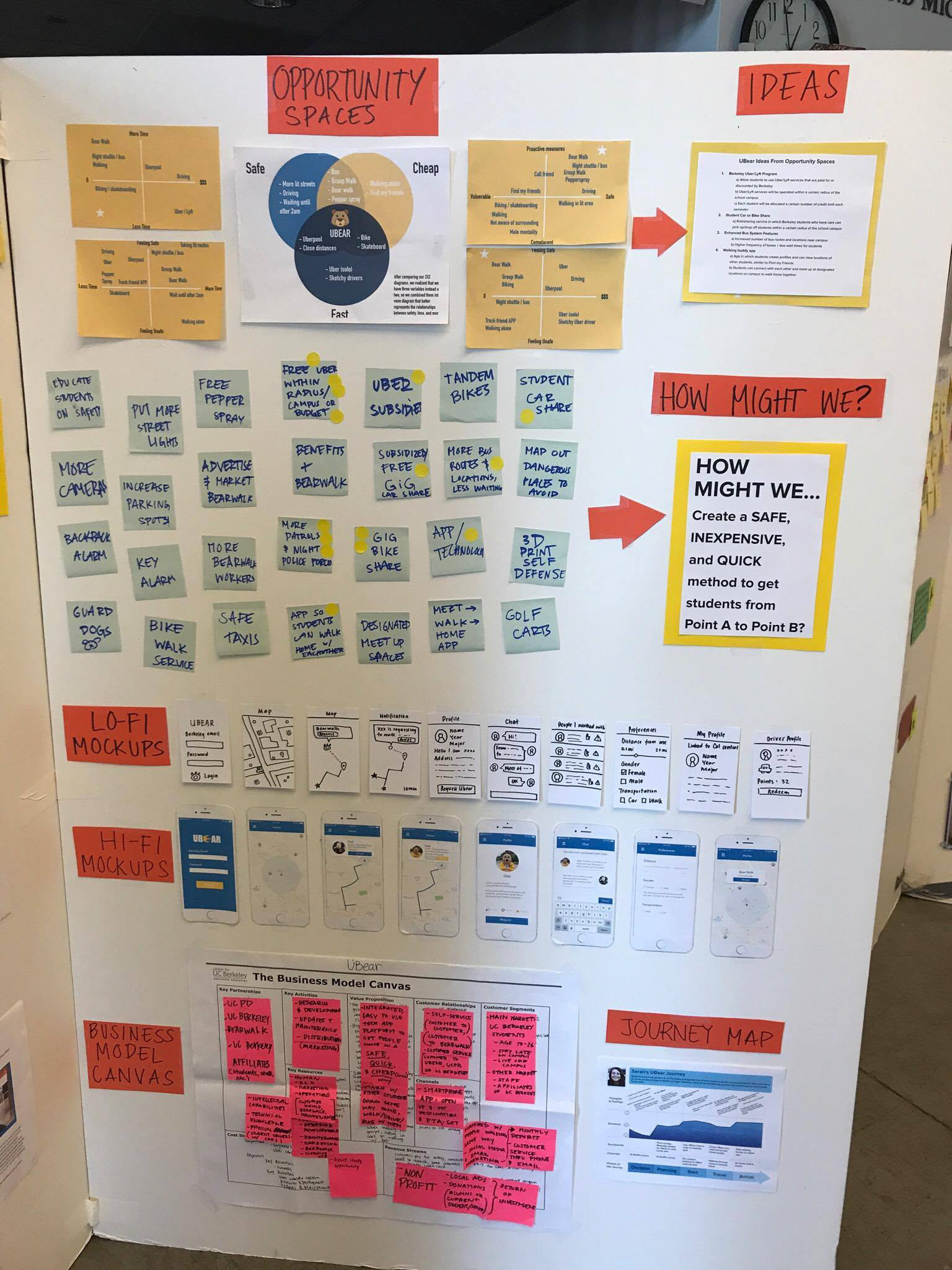 We conducted user testing using lo-fi mockups on paper with some students and received positive feedback on the idea. People worried about whether people who are matched are reliable but felt safe after they were told that the account is linked to their student email. One user suggested that we add a rating system for people which we incorporated to our final prototype.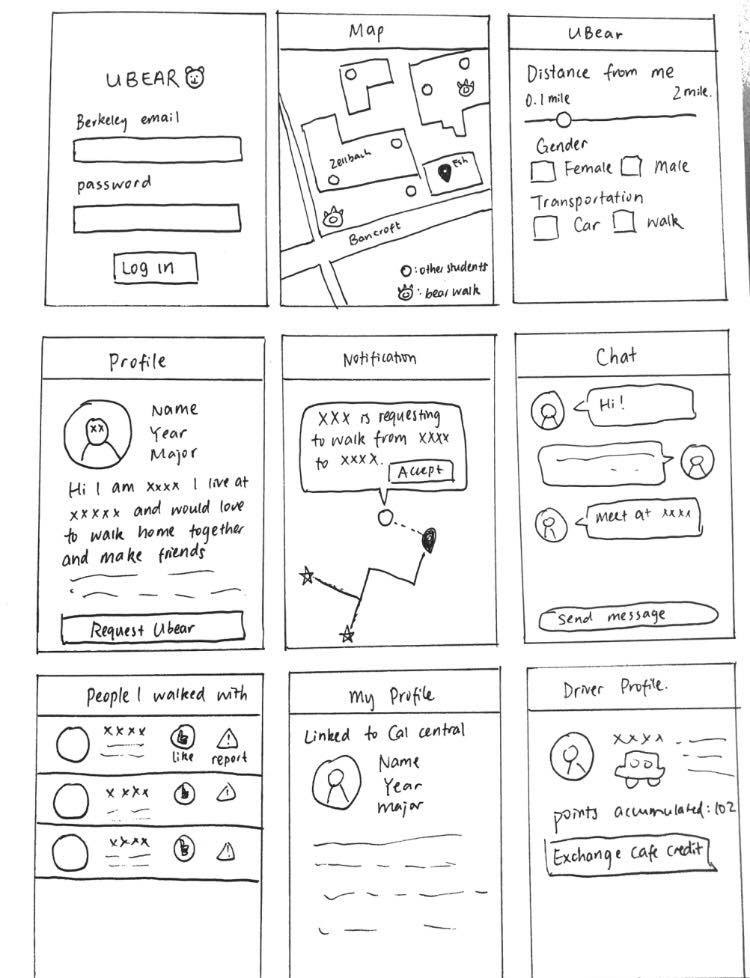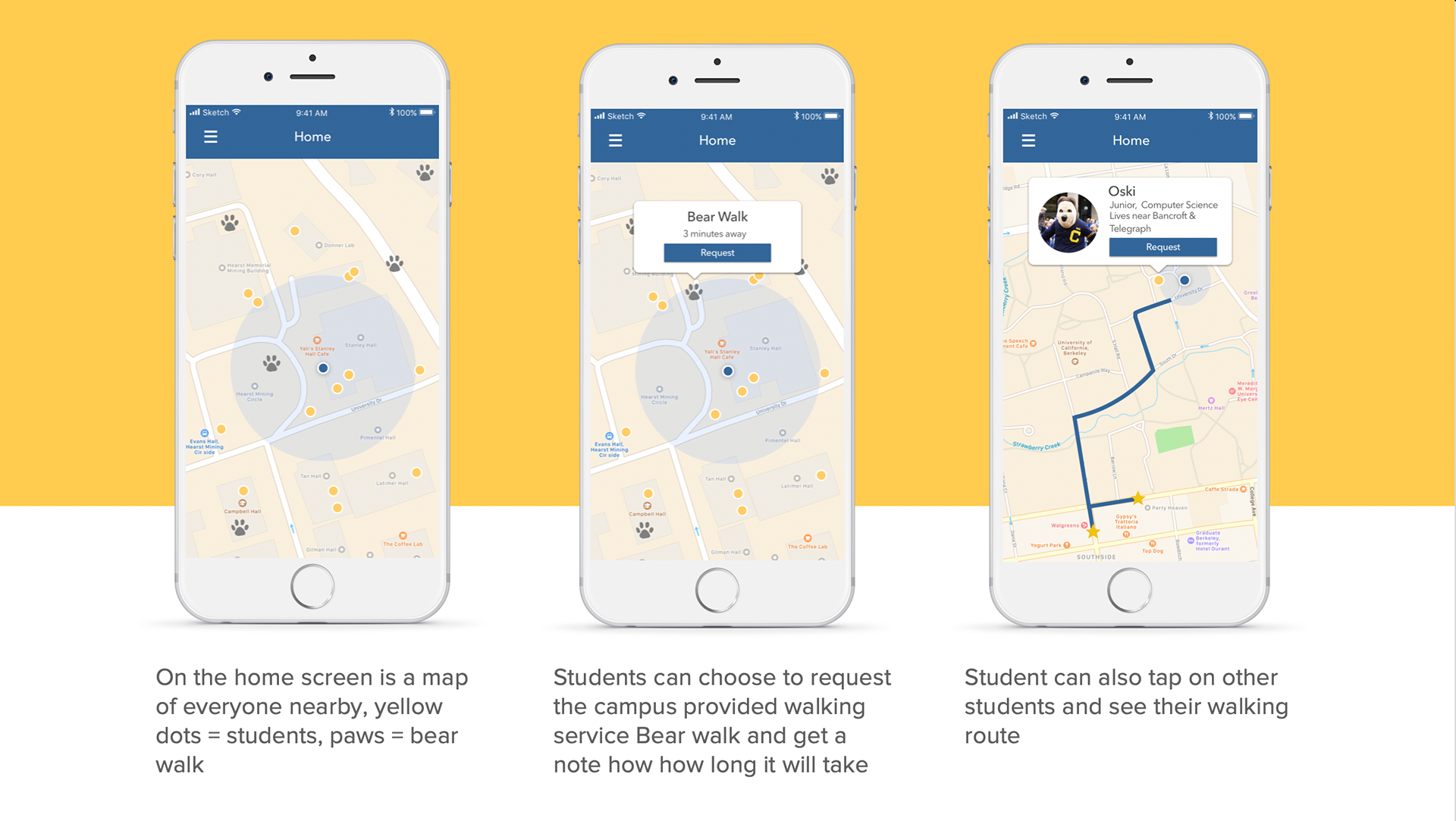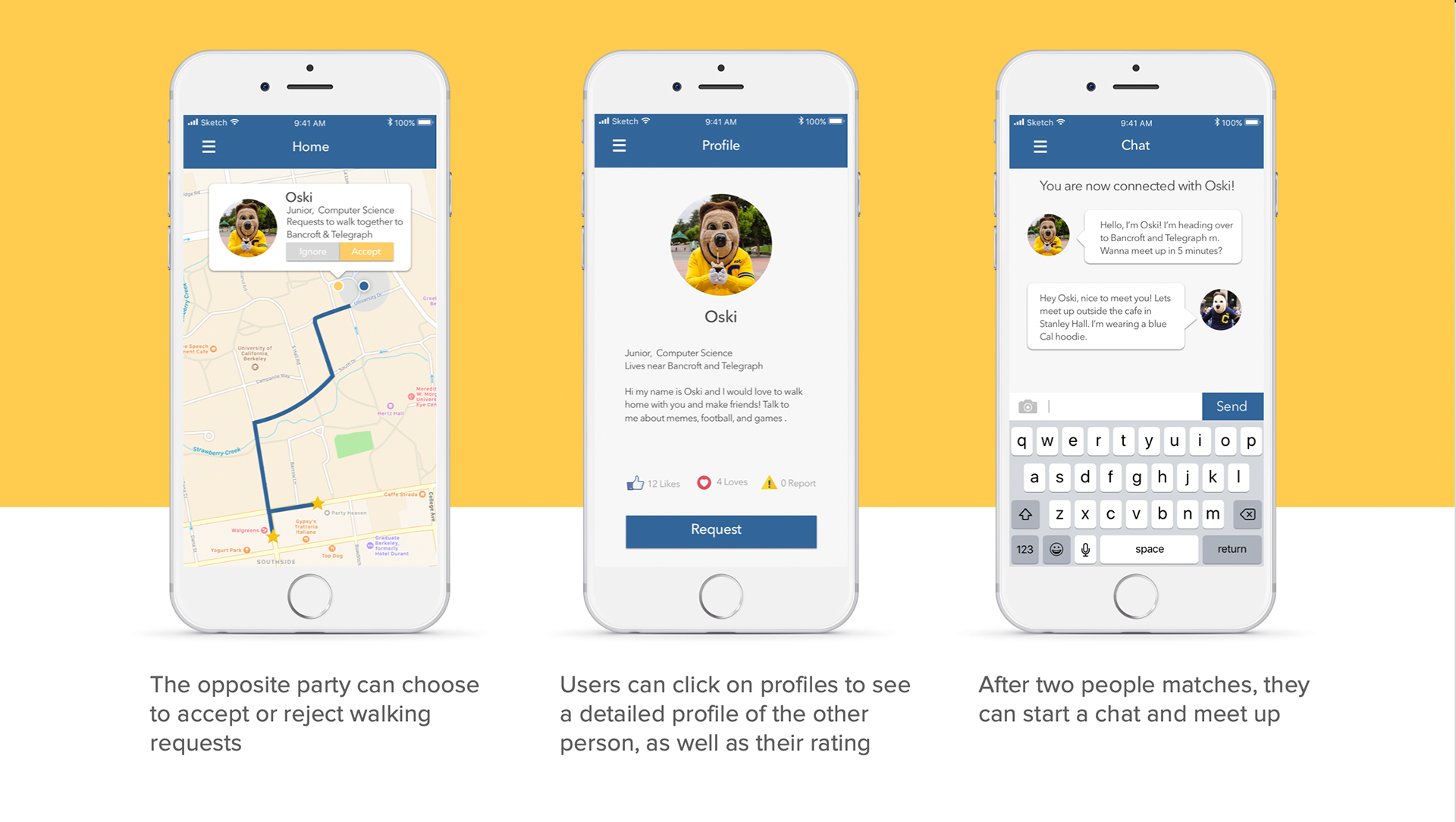 I learned a lot from my second design class at Berkeley. As an economics student trying to go into design, I looked up almost every design class that are available to take and found UGBA 190T. The most important skills I gained from this project is 1. Went through a holistic process of designing a product and 2. Refined my skills in Sketch. I also learned about the 2 X 2 diagrams for the first time, and later we transformed the information from quadrants into a venn diagram to better represent the trade off between time, money, and safety for Berkeley students. I was proud that we were able to extend what we learned in class to something that is more catered to our problem's unique situation.
An event that struck me was when the guest speaker questioned the data we gathered from interviews; as designers we might accidentally make assumptions on users and lead to subjective conclusions. Often time a product that I think is great (for me) might not be useful to other people at all, for example guys generally think our idea is unnecessary because they are less aware of safety issues than girls are. Or sometimes a solution is simply not feasible enough, for example some of our initial ideas of walking robots and partnerships with Uber. This class taught me about the efforts behind the development of a product, and also made me realize exactly what I need to work on to go into product design. ​​​​​​​

​​​​​​​