Young adults are constantly in a rush as they develop their professional careers. They want to still look presentable, while taking into consideration the weather and occasion. We wish to assist them in outfit picking because presentation is key to success in today's fast- paced society.
David Moon, Essie Xu, Natalea Schager, Sherry Zhang, William Wang
Our research process is focused on interviewing students about their outfit choices. 
"The clothes I wear give me confidence. It is how I present myself to the outside world. I get inspiration from who I see walking on the streets and just media. I try not to wear the same clothes in a row. Outward appearance is important to me."
"You know I'm always trying to stick with the current trends on campus. I change at least once or twice every day since I'm constantly going from meeting to meeting."
In conclusion we found that the lives of Berkeley students were a lot more professional than we anticipated! Everyone is in that professionalism pursuit that many clubs on campus require you to be in business professional for meetings. With the constant shifting of weather we have come to expect in Berkeley, it becomes difficult to plan your daily outfit accordingly while also maintaining comfort.
We split up into two different teams and took to the board to decide how we personally felt about this idea and painpoint.
David, William & Natalea:
- Focused a lot more on the pain point of having to change multiple times during the day.
- Thought about the potential of saving time throughout the day.
- Focused on the pain point of the confidence evoked from the clothes we wear.
- How to give recommendations on what kind of styles to wear and how best to present yourself for the day.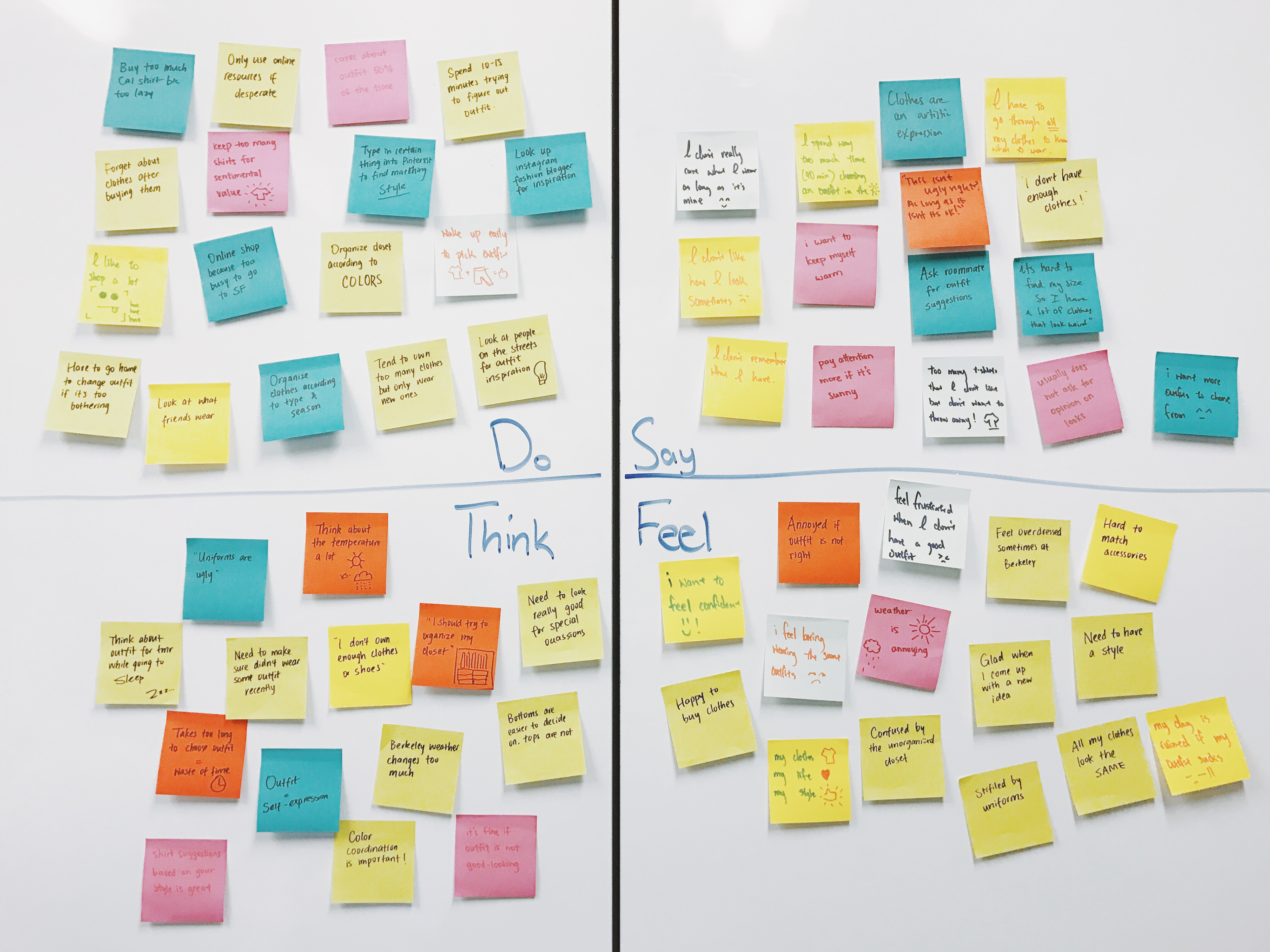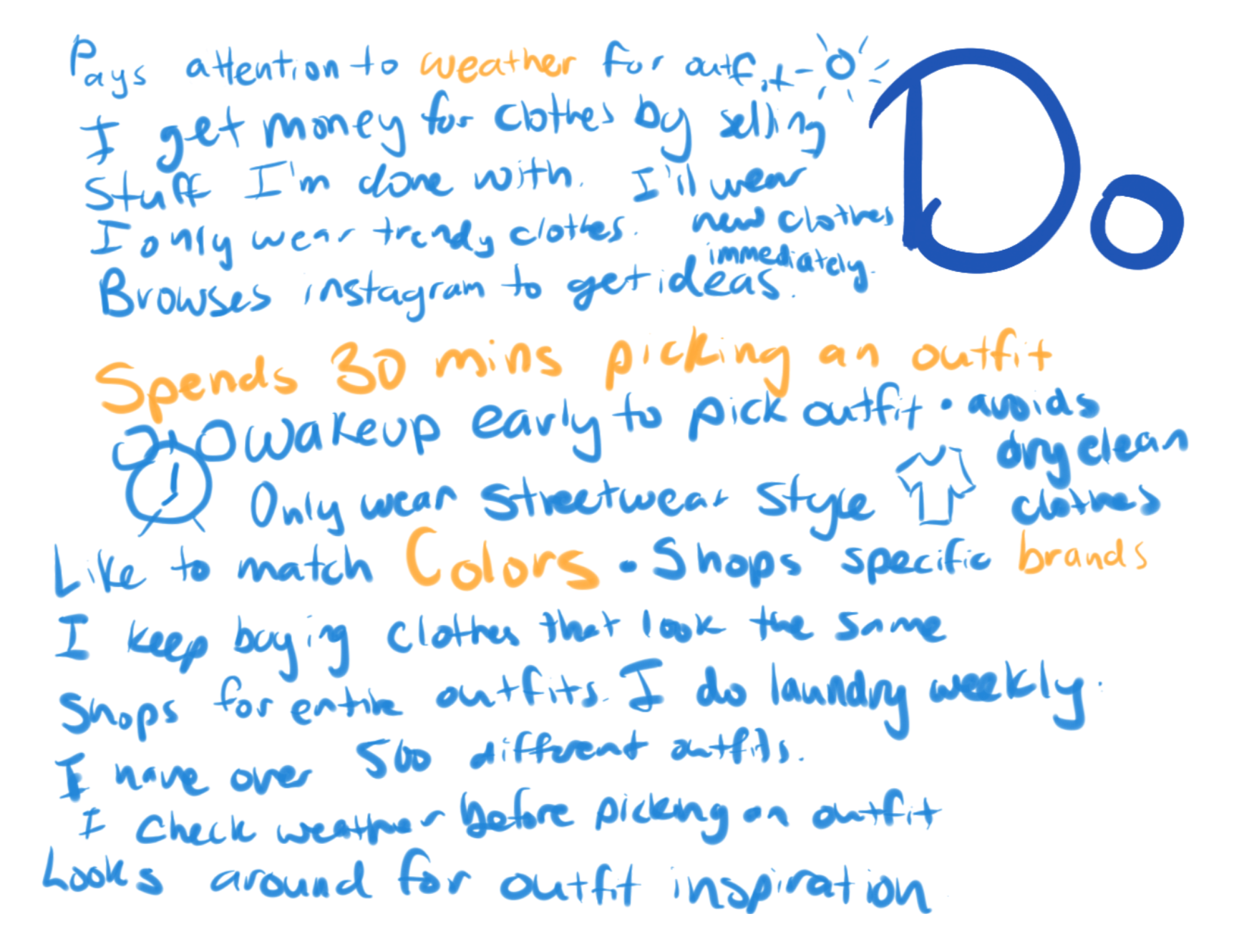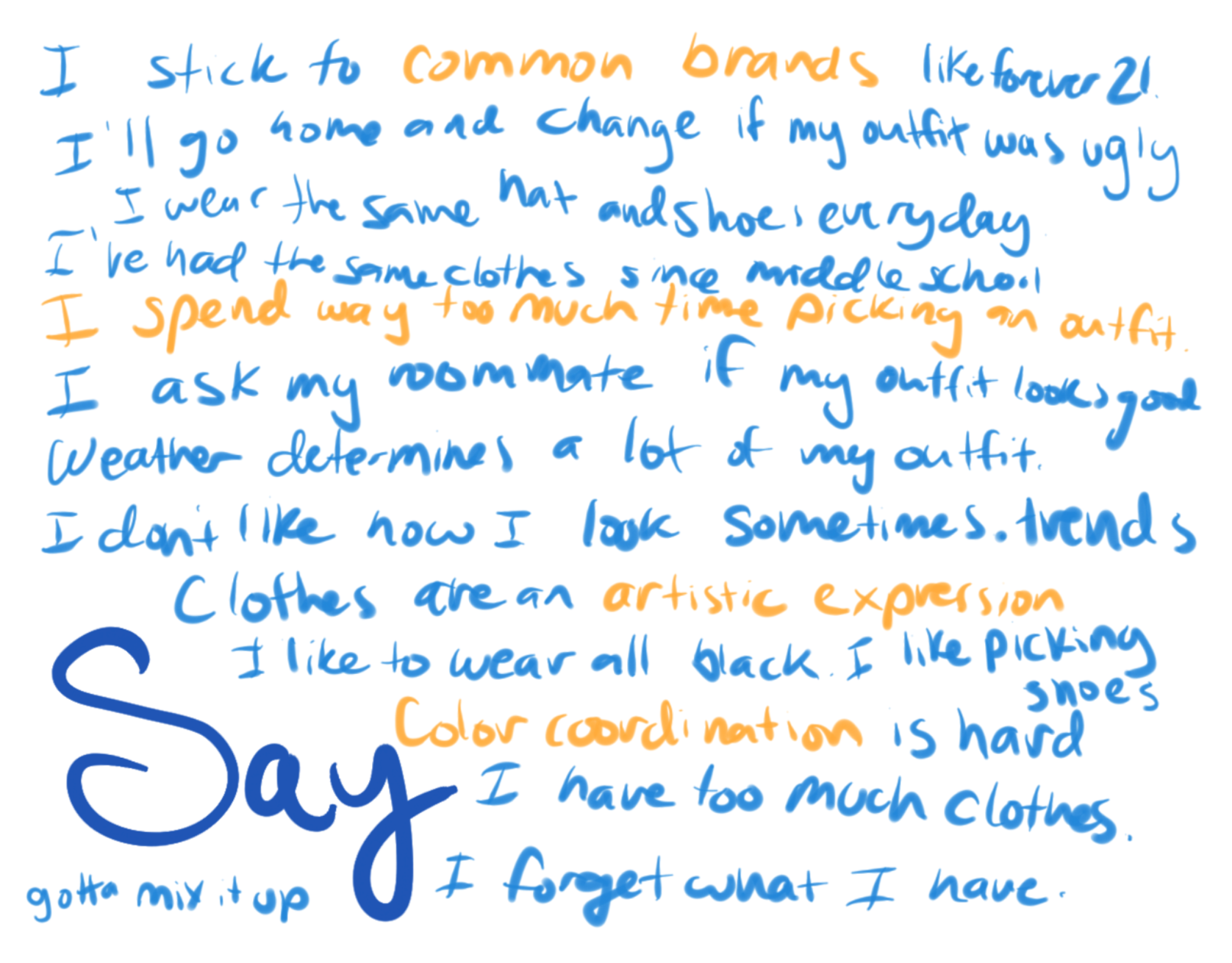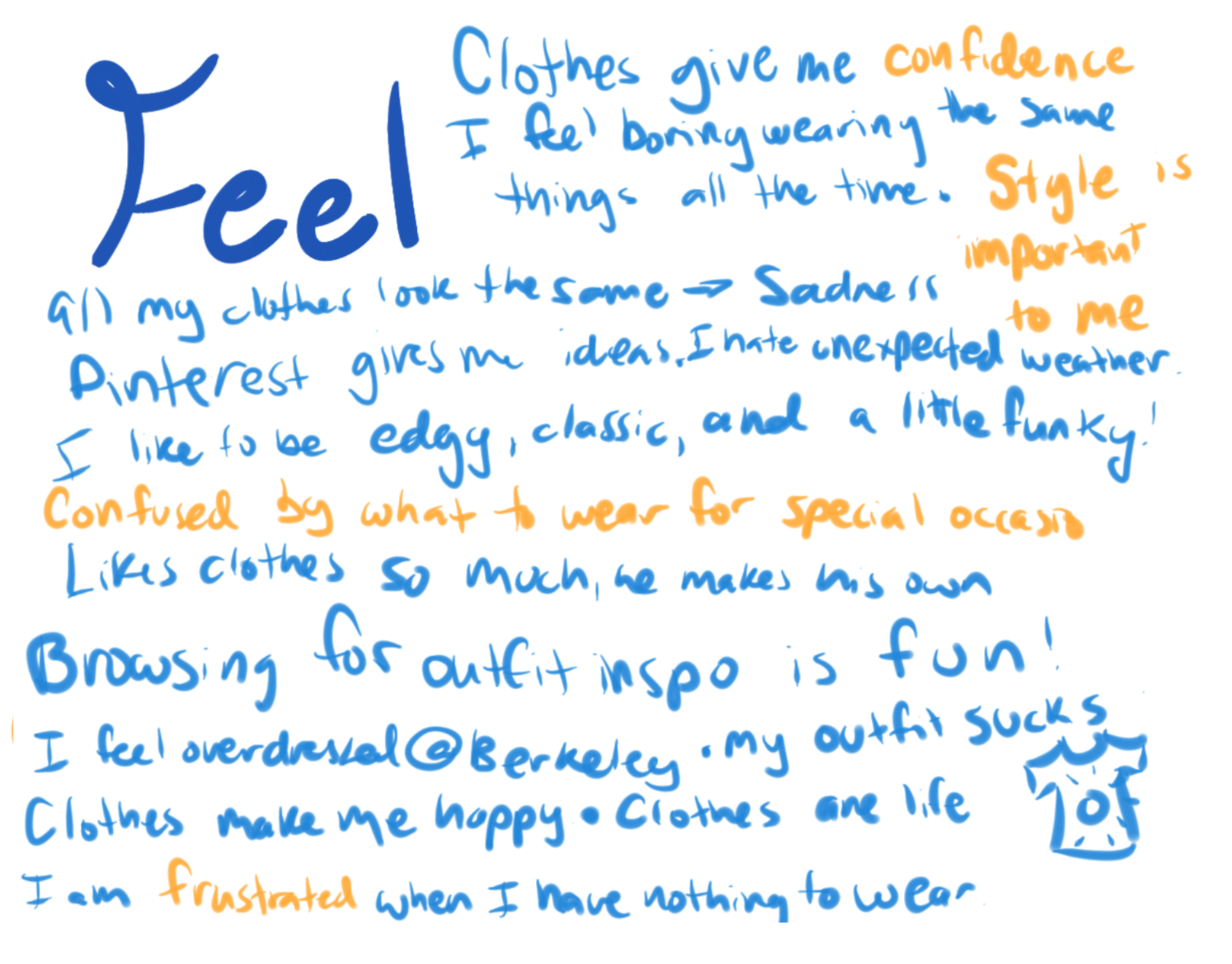 After going through numerous iterations of questions and initial empathy mapping, we have ended up here with our how might we's:
How might we make the outfit picking process more time efficient?
How might we make shopping and closet organization more convenient?
How might we help users keep track of how often they wear certain clothes to track favorites?
And by combining our how might we statements with our empathy mapping, our initial prototype had some of the following features:​​
WEATHER feature that allowed users to know what to wear based off of weather/location
FASHION TREND feature that showed what people nearby were wearing and what was considered "in"
CUSTOMIZABLE feature for you to pick and choose what you like and don't like
TAILORED 
shopping feature for you to easily buy the looks you love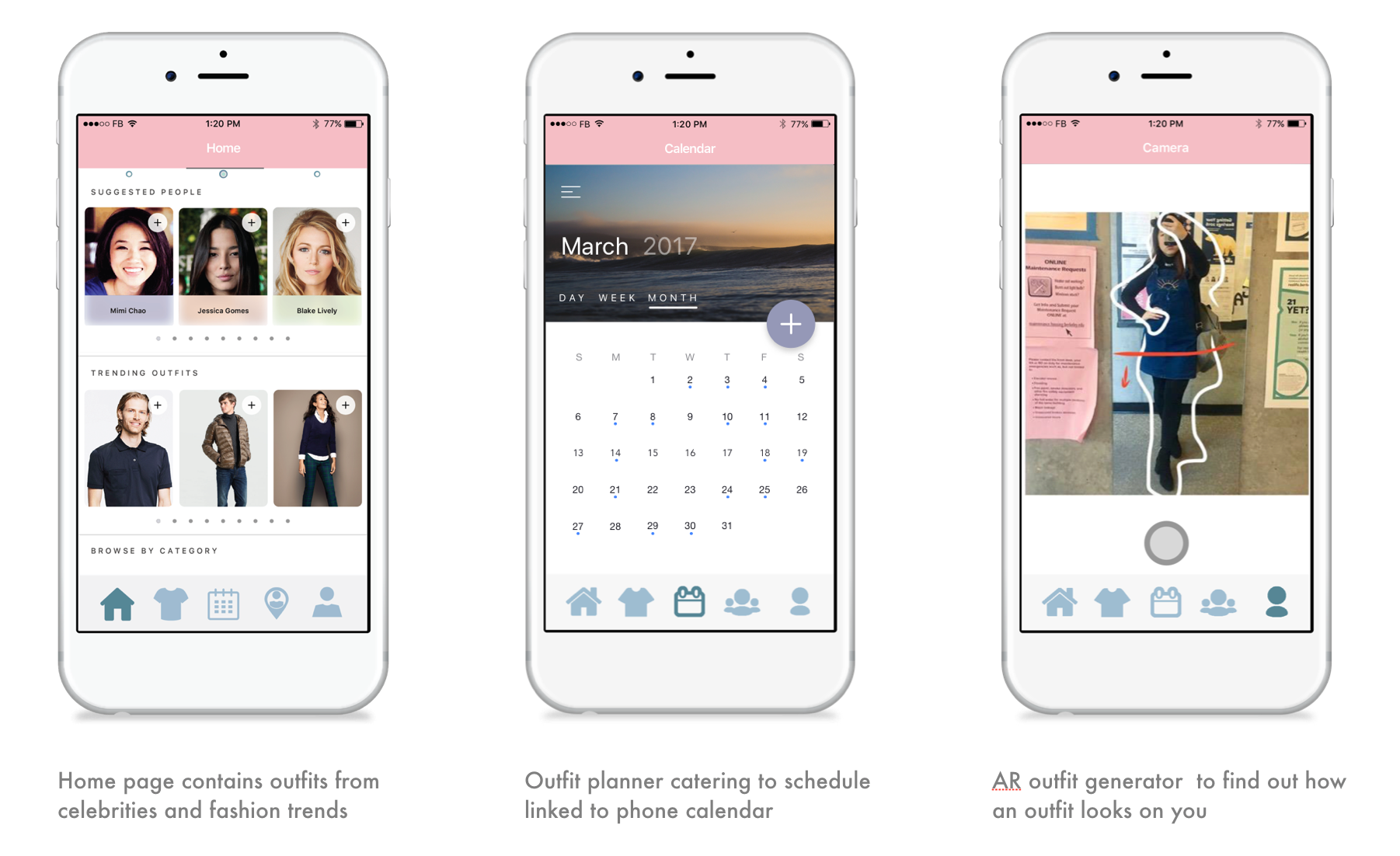 After user testing we found some pain points - There was overwhelming support for the idea of the app, but it seemed like we may have tried to put too many features in this one app. People loved the layout and design of the prototype. Though some of it was still lo-fi, people loved the home page especially with its design/features. We missed navigation buttons to go back and forth from pages and the depth of interaction from the app. Suggestions were useful and has a lot of potential, But there was a lack of communication in how to get to that feature. However, people complained about the overall slow on-boarding time for users. We expected users to dedicate around an hour of their time to just set up the app before usage.
User testing gave us more insights on what actual users expected from the product. We decided that instead of coming up with multiple how might we's we should focus on one - How might we make the outfit picking process more time efficient?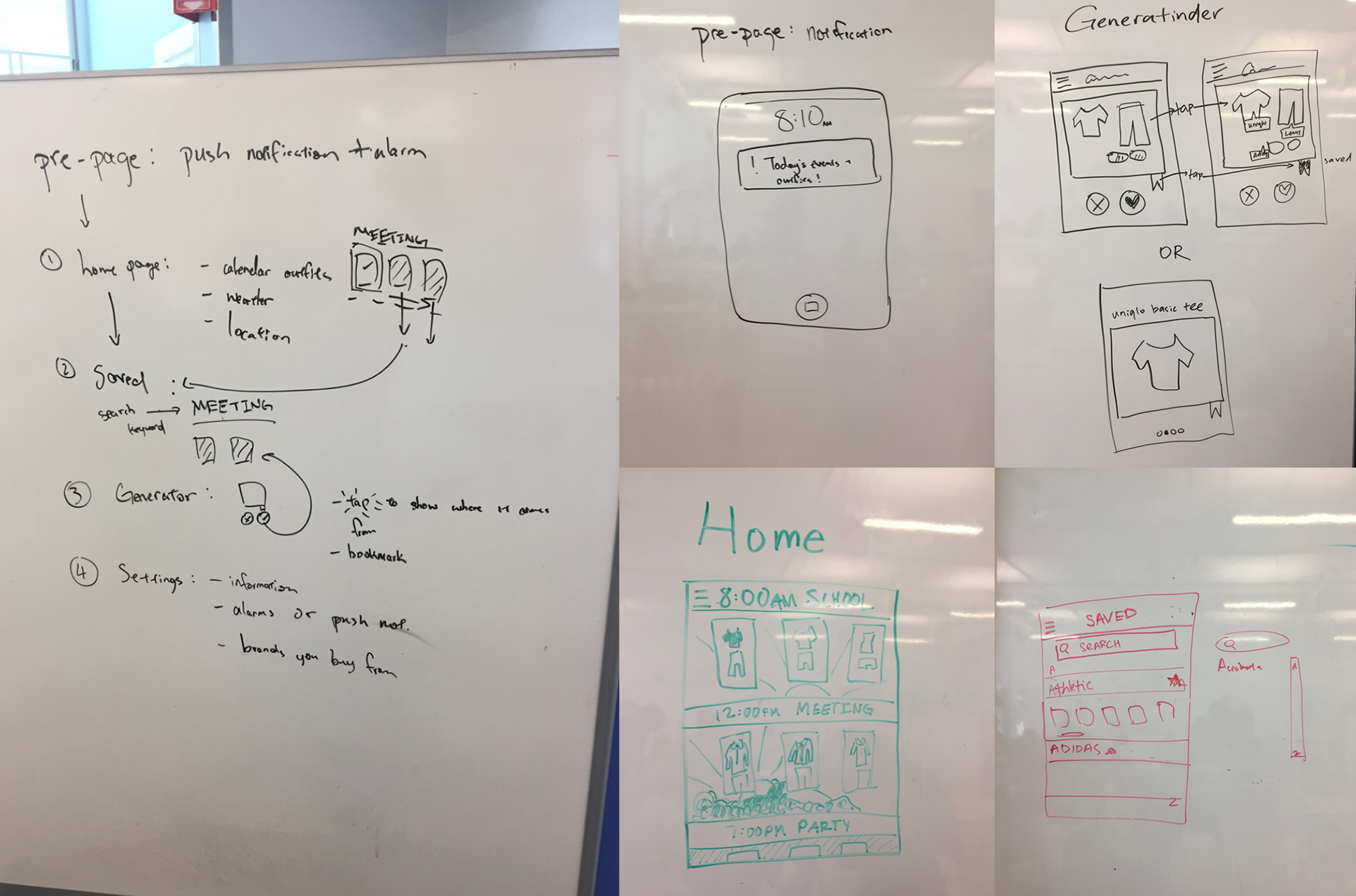 Our second round of ideation we decided to focus on schedules and outfit generator in specific. We aimed for a simple APP that is easy to use and straightforward by minimizing features to a calendar with outfit schedules and an outfit generator to browse and save inspirations.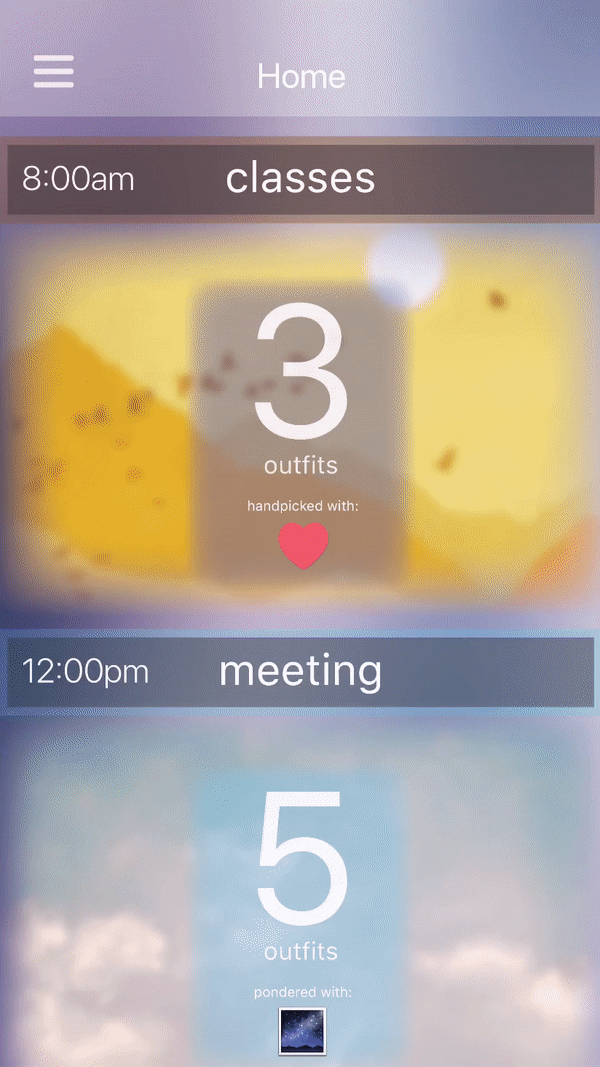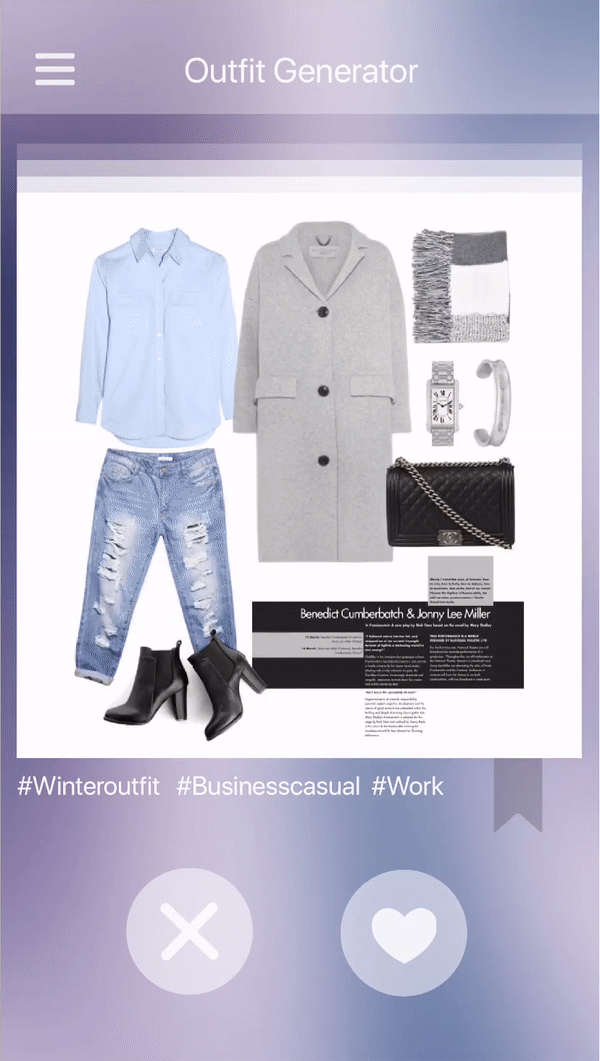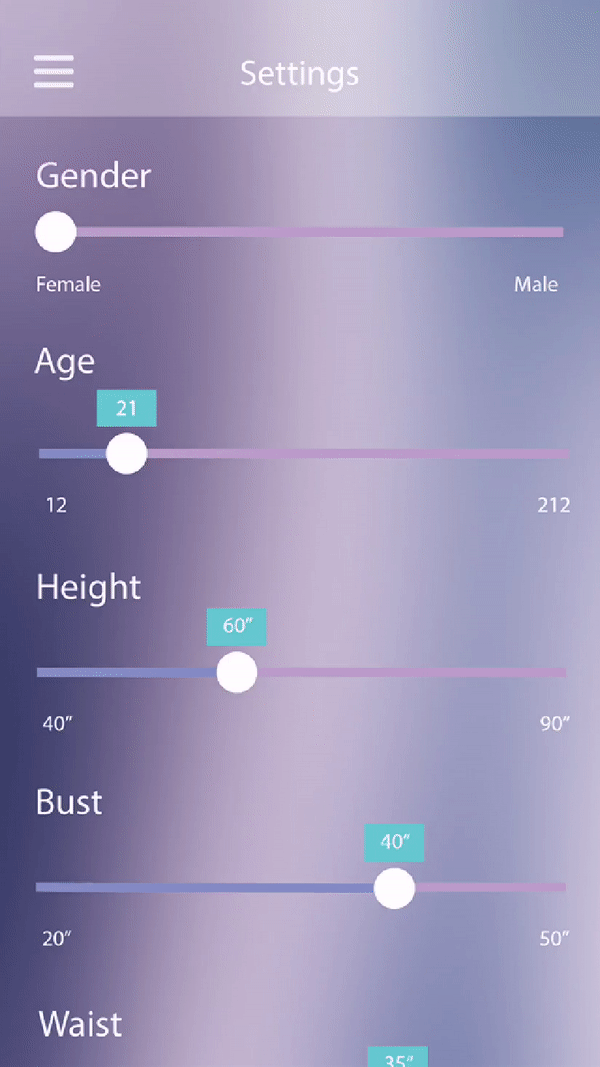 Mirropa was my first project in human-centered design and I learned about the basic design process from targeting pain points to user research, ideation (diverging/converging), and prototyping with sketch for the first time. The interesting part about this project was the pivot that we had. Initially, we tried to include too many features in our APP until our professor told us about a weather APP that is extremely minimal but does one job very well. I realized that users want something that is simple and direct instead of our prototype version 1 which tried to fix too many problems and ends up fixing none. Although this project is rudimental, it is significant to me because it marked the start of my journey in design.