In the age of hyper connectivity, people are always on their phones, texting, calling, scrolling through social media, yet failing to interact and engage with people on a deeper, personal level. People often find it difficult to introduce themselves to complete strangers in an effective and comfortable manner, making it difficult to build new relationships. Is there a way that we can promote social interaction with wearables?
We started off our brainstorm session thinking of (1) Different types of wearables, (2) Meaningful or practical concepts and (3) Various locations on your body where people could use wearable devices. Some places where we saw opportunities for wearables included hair, toes, jewelry.
Some initial concepts we thought about creating included (1) Promoting gender fluid clothing, (2) A wearable that could help you stay on track with your everyday routines or tasks, or (3) Creating a wearable that could extend the use of your elbow to help you perform an action such as pouring tea (inspired by assistive tech, aimed at helping amputation patients). 
Eventually, we decided to take name tags a medium and redesign it for our social interaction purposes.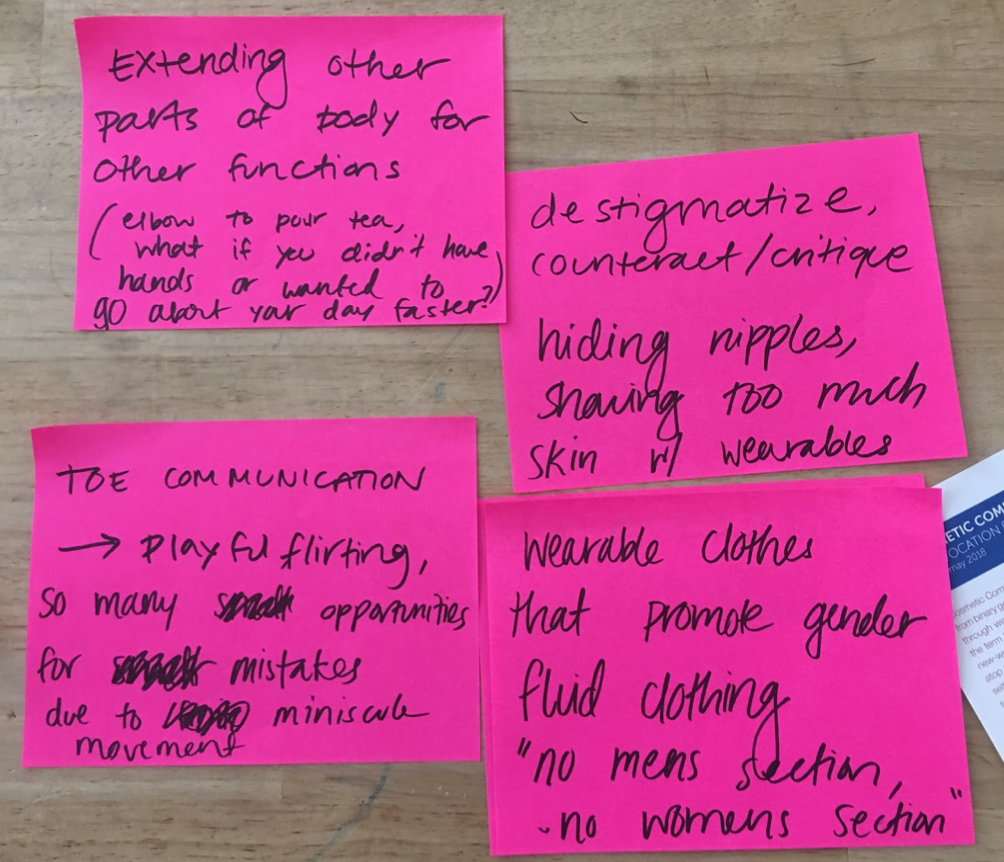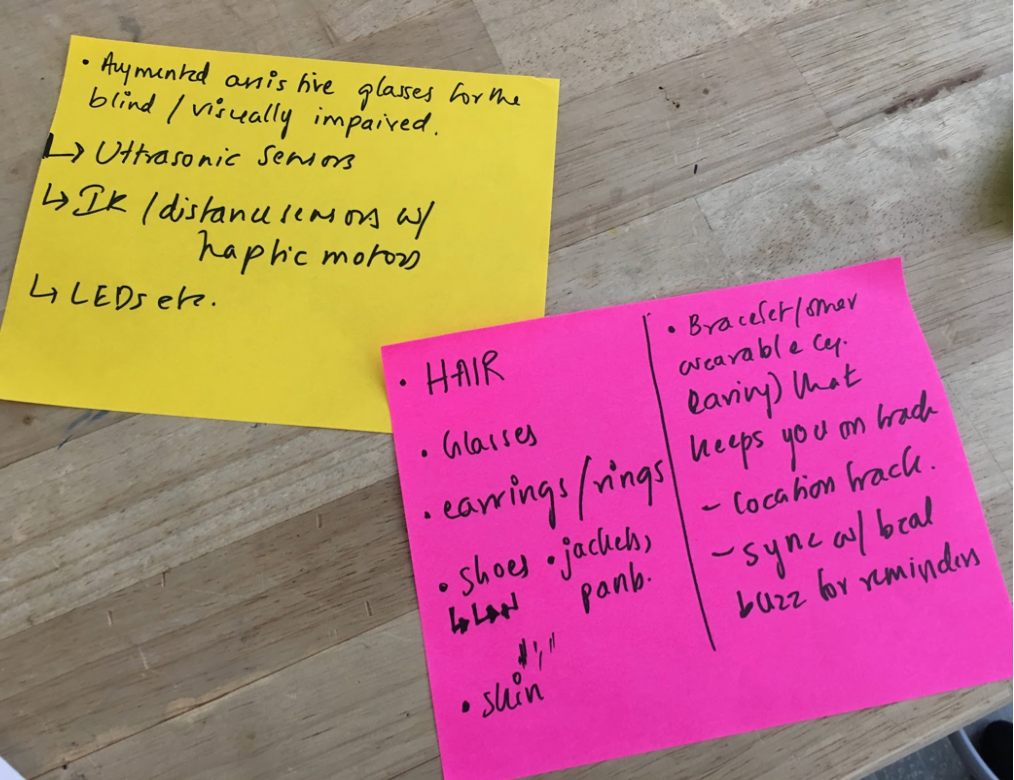 With a group of around 30 people we had an in-depth discussion on the numerous disadvantages and shortcomings on conventional name tags as well as the role they play in both personal and professional contexts today. We targeted some main user pain points:
- Name tags are sticky and uncomfortable for people with long hair which can get stuck to the tag
- Forgetting to peal off name tags after events is awkward 
- Females think it's

embarrassing

to be stared at the chest
- Not environmentally sustainable 
- Hard to customize, boring
- Doesn't facilitate social interaction besides displaying identity 
How might we redesign name tags in order to encourage more human interactions and genuine conversations in both personal and professional setting, while also increasing convenience and maintaining control over your privacy and what you share?
We wanted to build s smart name tag focusing on customization & communication aspect of wearables
Concept & meaning: Encouraging, facilitating social interaction
After we brought our name tag idea to the cross critique, most of our classmates saw a lot of promise in how our idea could be used in a variety of scenarios. They could imagine "wearing it at work, then at happy hour, and then at a friend's party", displaying different, appropriate information for each situation at a click of a button. This feedback pushed our design to be more portable and versatile. We changed it from being permanently sewn in, back to something similar to a name tag that can be attached to any t-shirt. In addition, the feedback inspired us to come up with a business mode where users could upload their LinkedIn information, display their name, company, and role, and send their LinkedIn information
Screen/display worn on every clothes. Depending on the type occurrence, different kinds of information could be shown. Different modes to get to know you, meeting strangers/new people
- Display like a name tag
- Trade LinkedIn info (instead of business cards)
- Meeting certain pre-decided people in professional settings like recruiting events, workshops, conferences etc.
- Easily finding people with similar interests/fields of expertise in crowded spaces
- Displays common interest topics as conversation starters when two people meet for the first time. IR emitters and receivers detect when two iTags are nearby and then the software matches their online profiles to try and find a mutual interest.
- Users can customize the product to their liking by adding personal screens to meet their needs.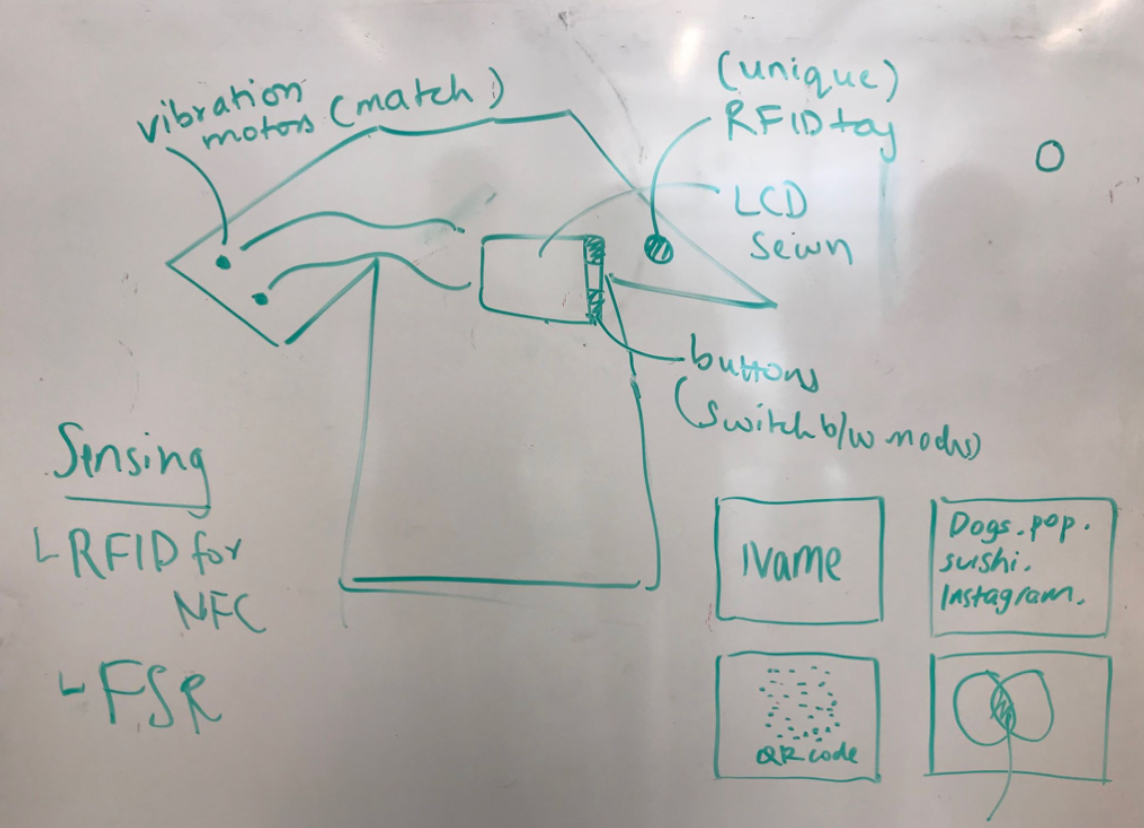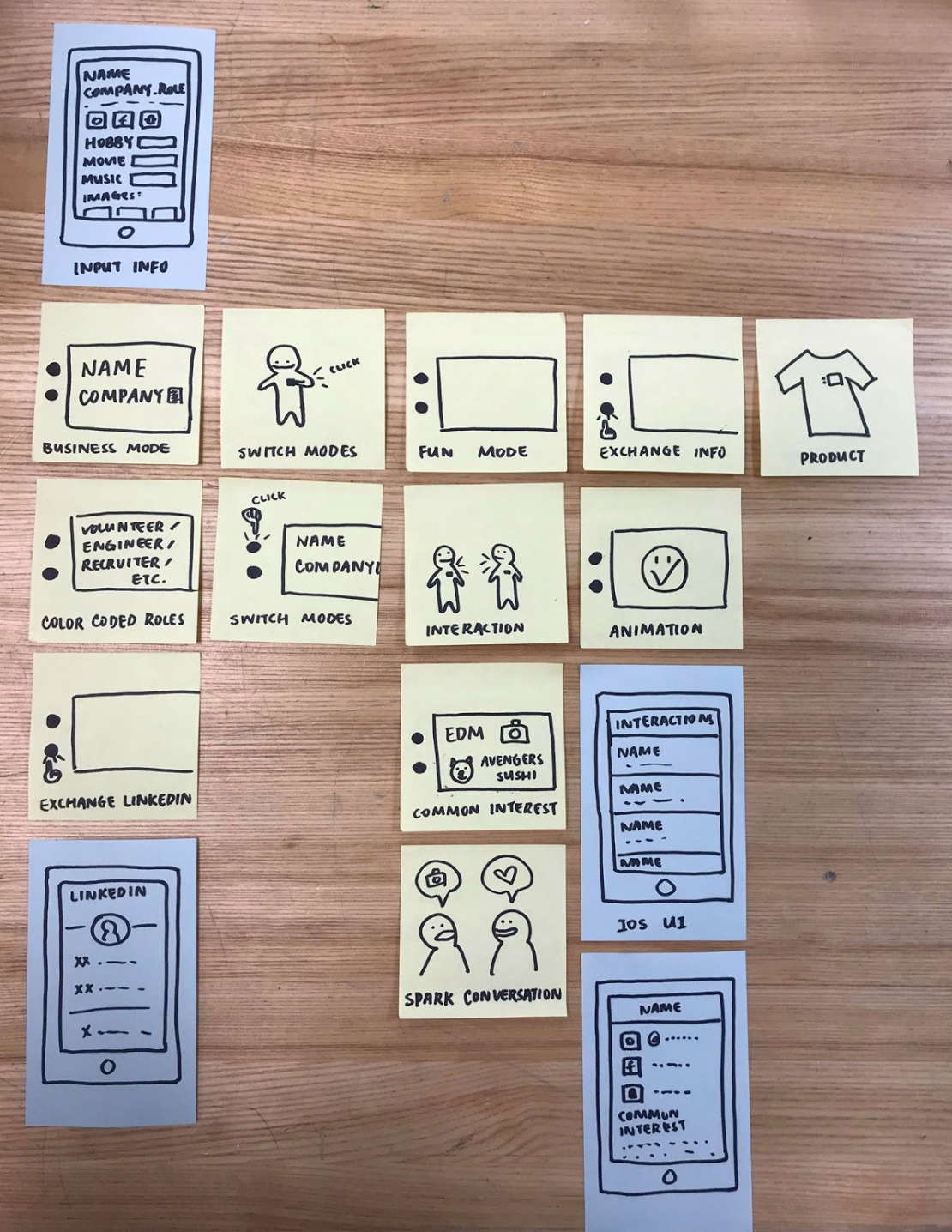 Left: Rough sketch of the product with different screen displays. Right: Visual user flow I made to explain the process for business mode vs fun mode.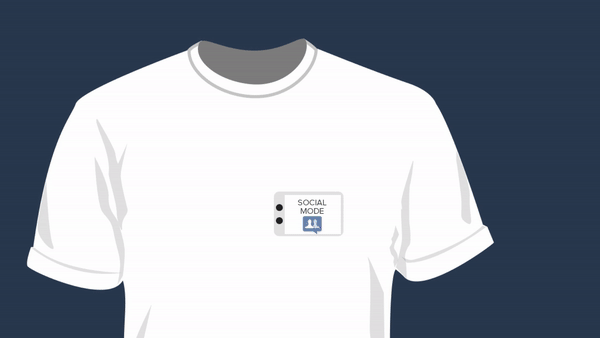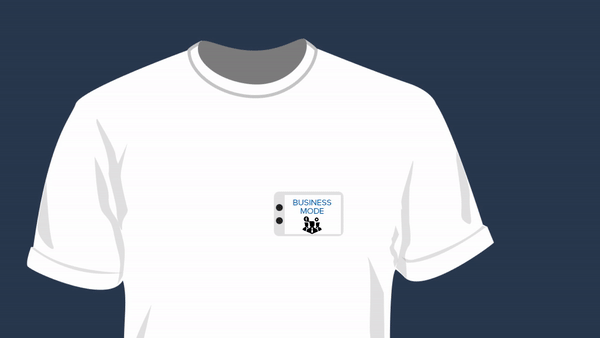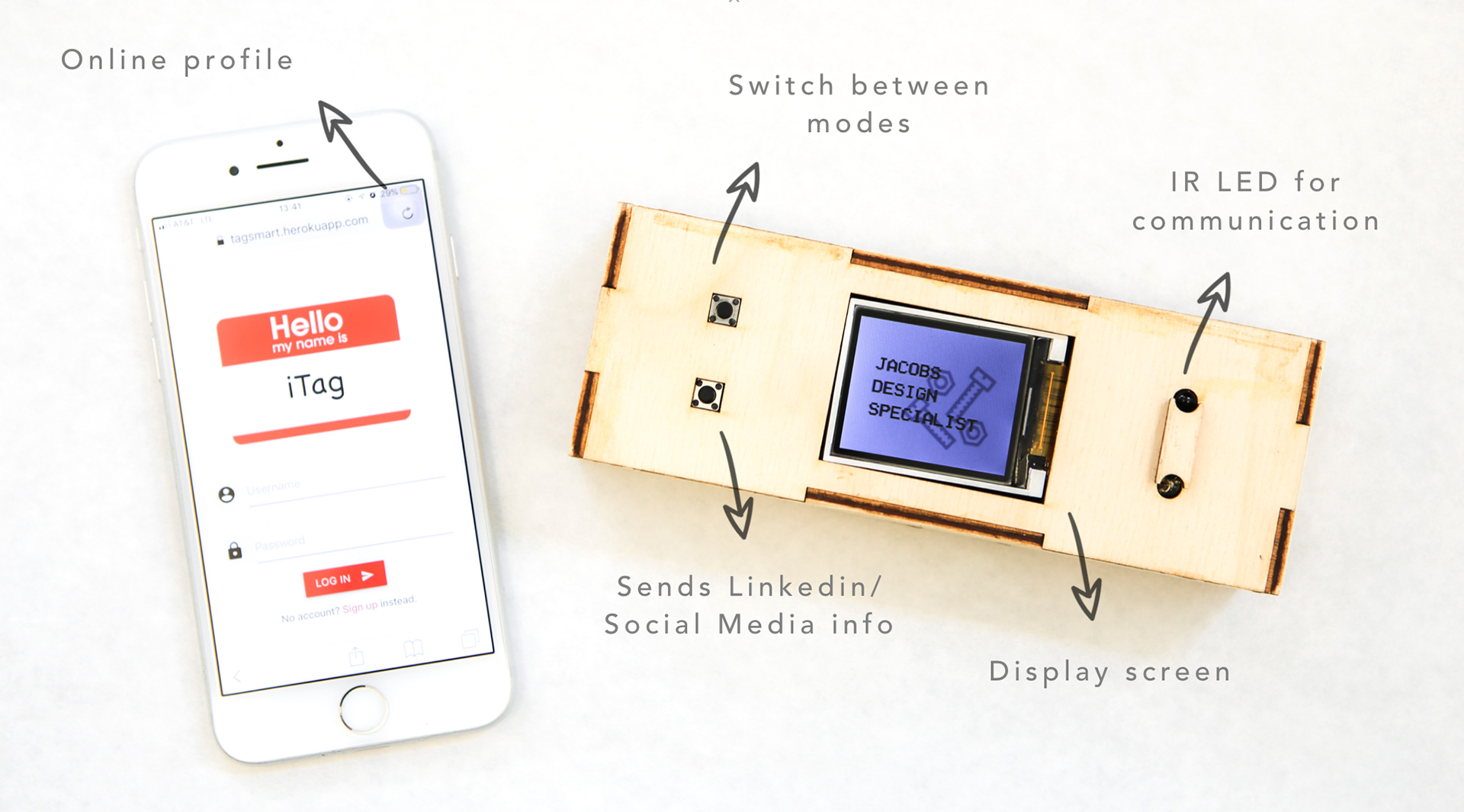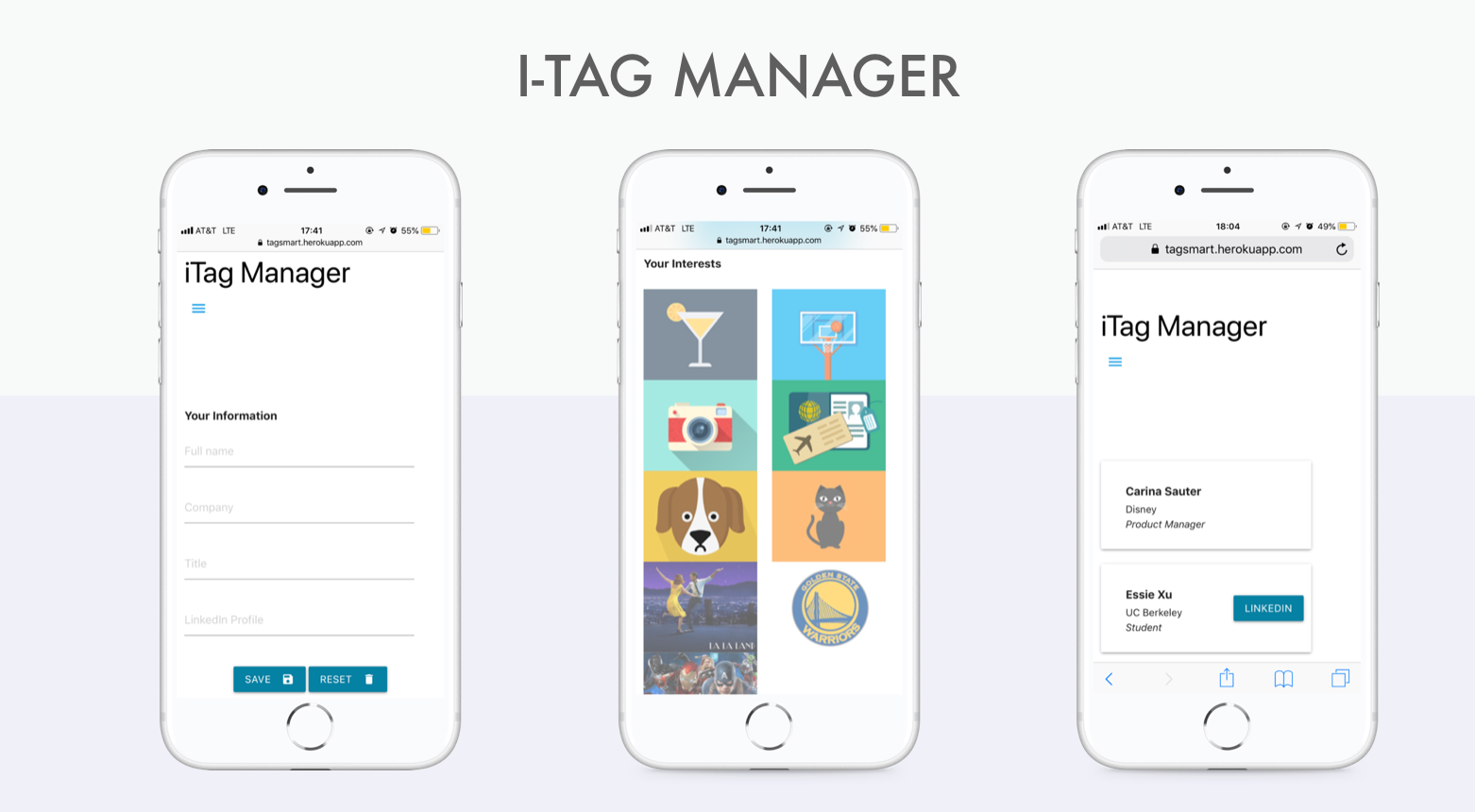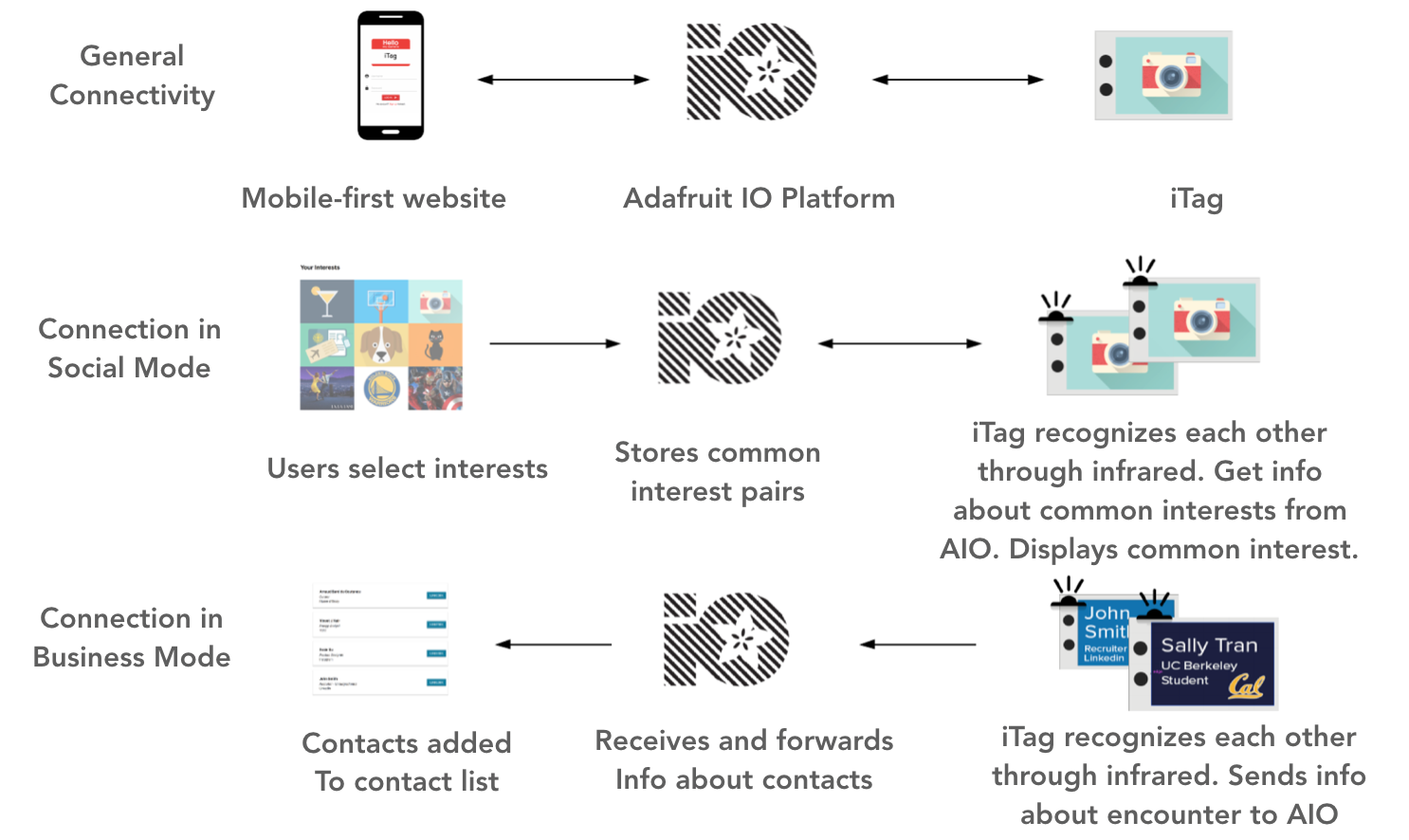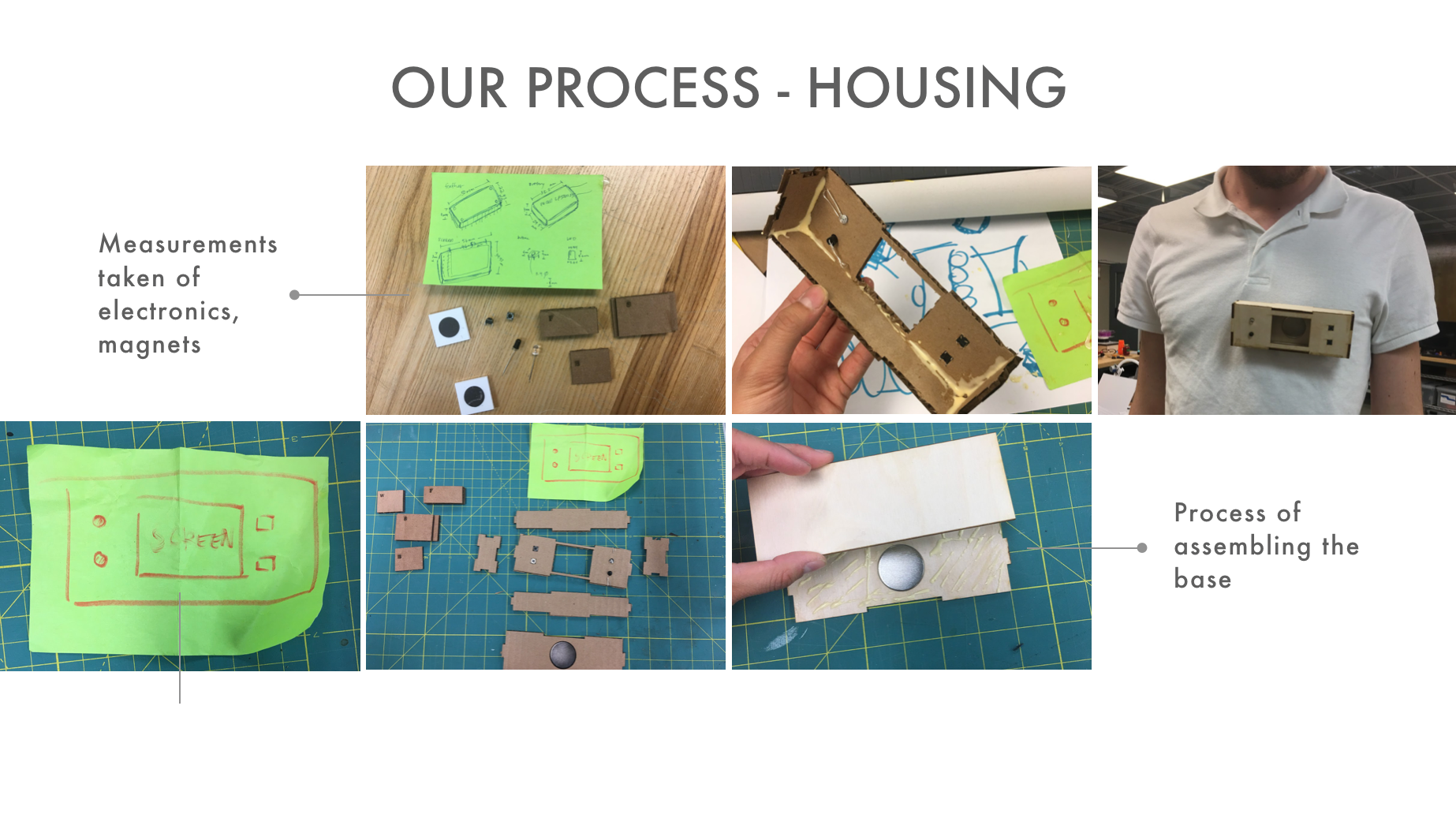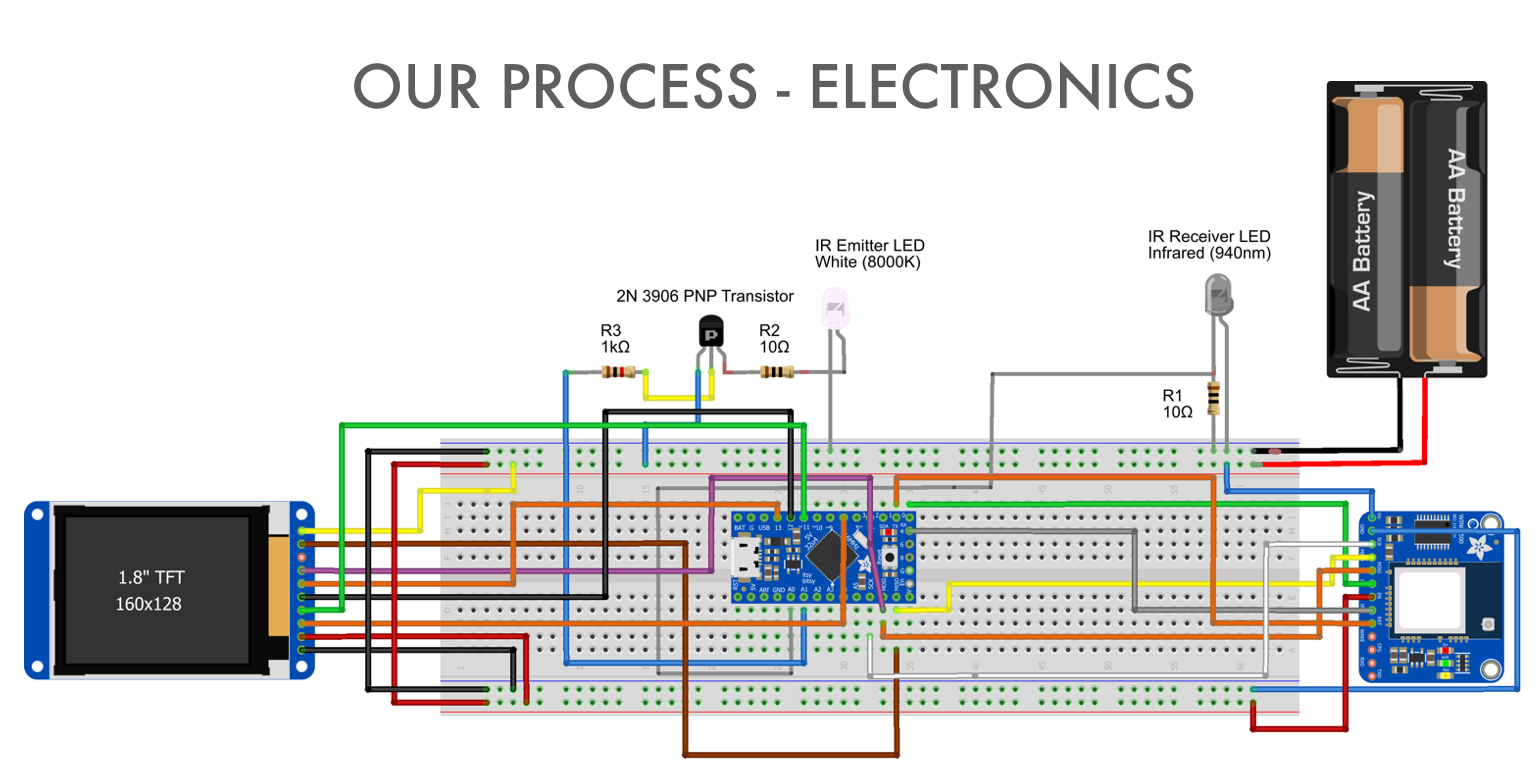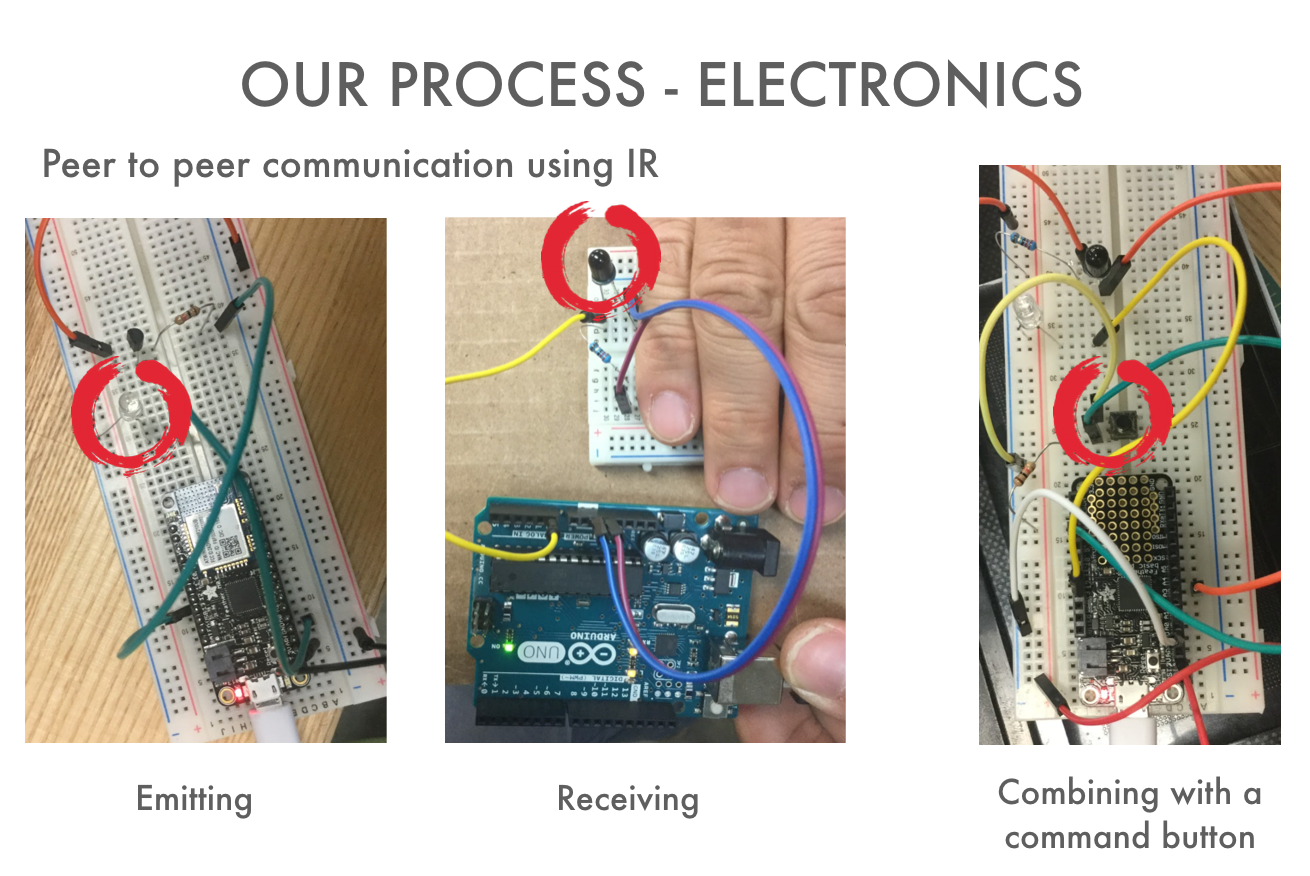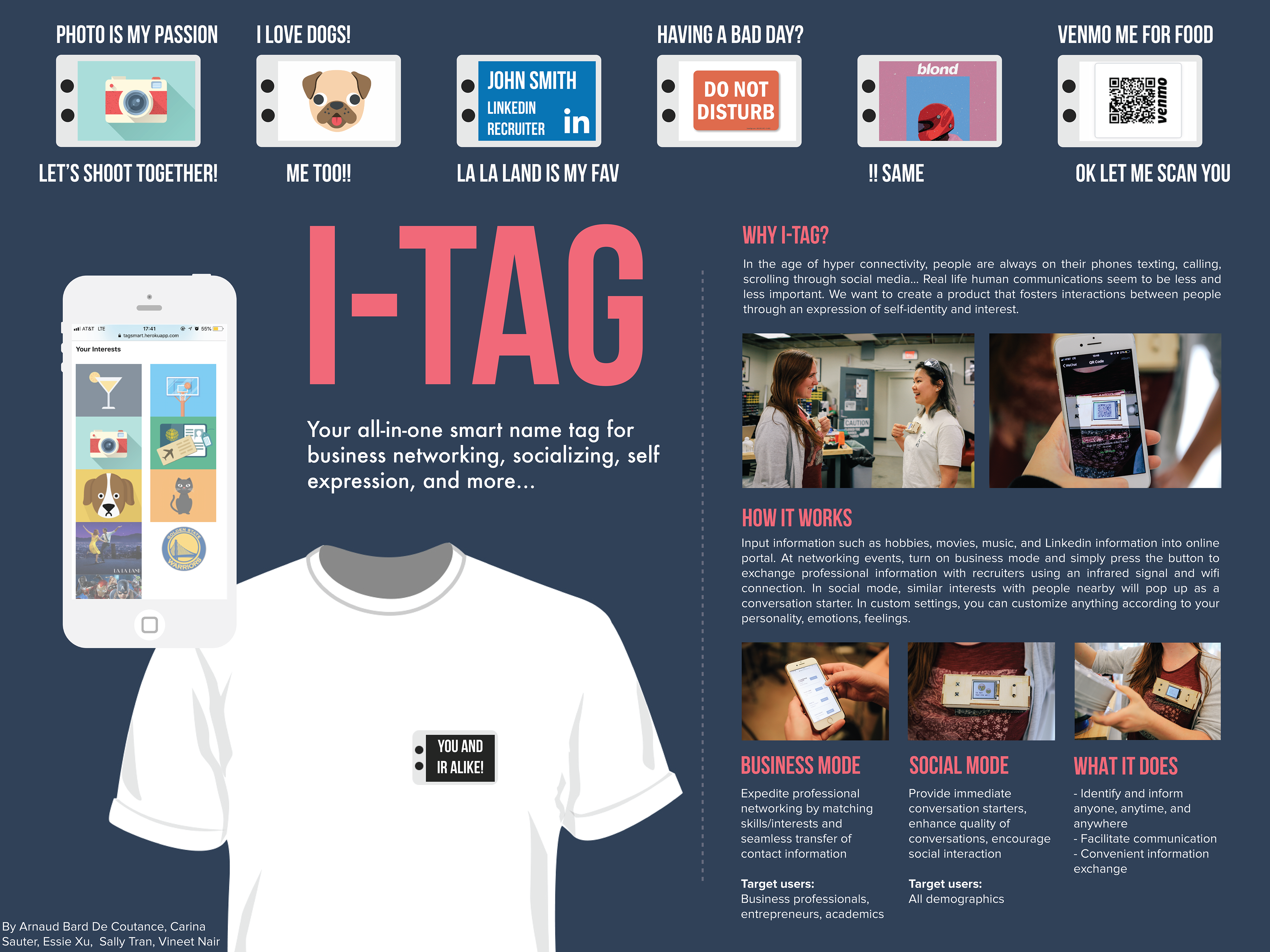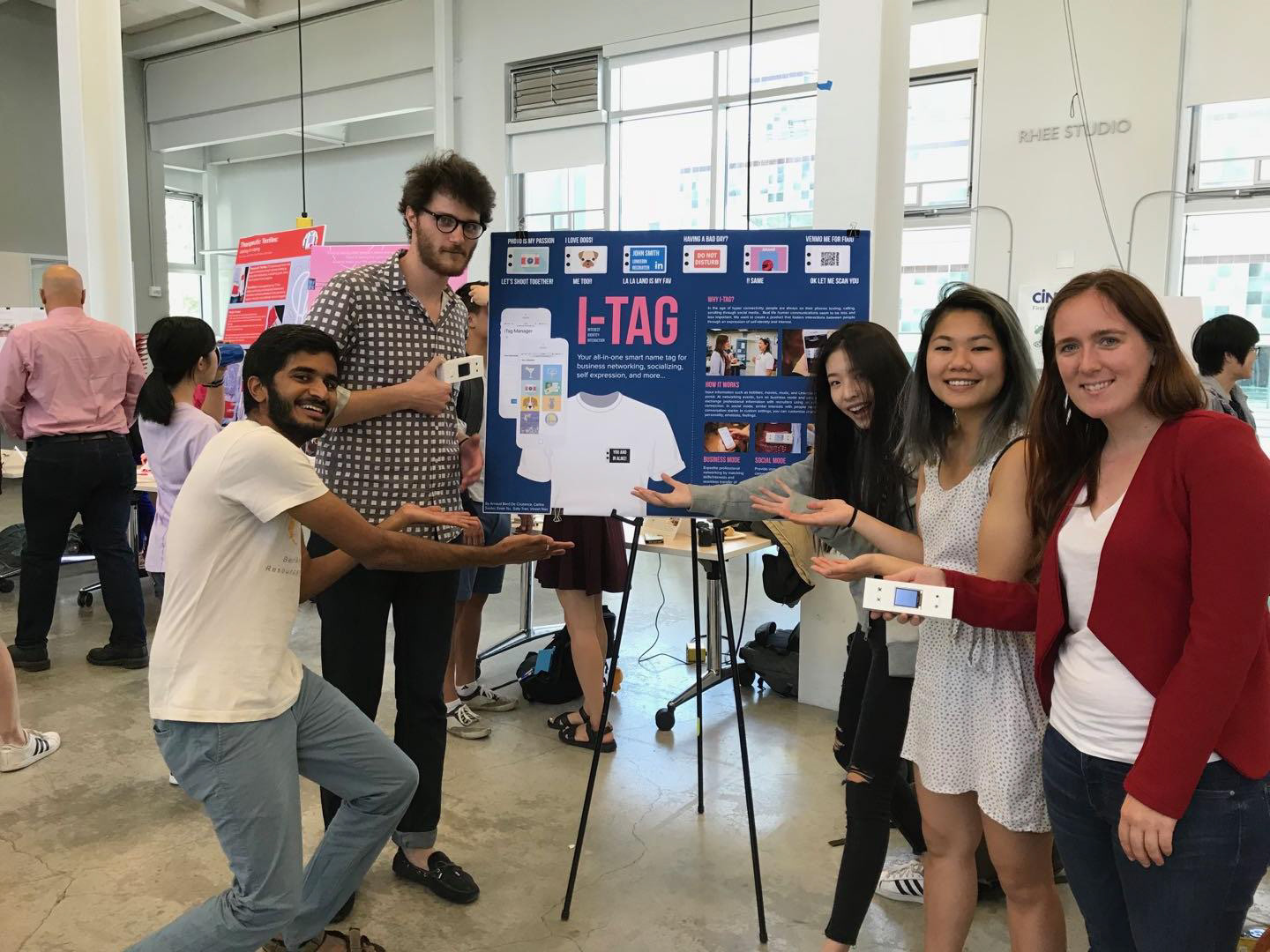 We present our concept as a way to solve the problem of loneliness of loneliness & social isolation…
….but is this another example of technosolutionism?
Difficult to balance aesthetics and maintain very compact form factor while also realizing all electronics features & staying true to our concept.​​​​​​​
Speculative Design: Is a smart name tag a wearable we want to see in the future? Would people be comfortable sharing personal info so freely?