We began our project with participatory research in the form of a card sort. We gave participants different cards labeled with words commonly associated with housing such as "land lord" and "utilities." Participants were then asked to sort the cards in order of importance and explain the reasoning behind their decisions. From our card sort, we organized our key insights into an empathy map which allowed us to understand how users thought, felt, and what they did and said. We quickly learned that when finding housing, students were more likely to trust information that came from other students.
Furthermore, international students felt the need to be connected to a supportive community through the housing process. Our research process concluded with the creation of our persona Isaac who is thought of as one potential user to design for.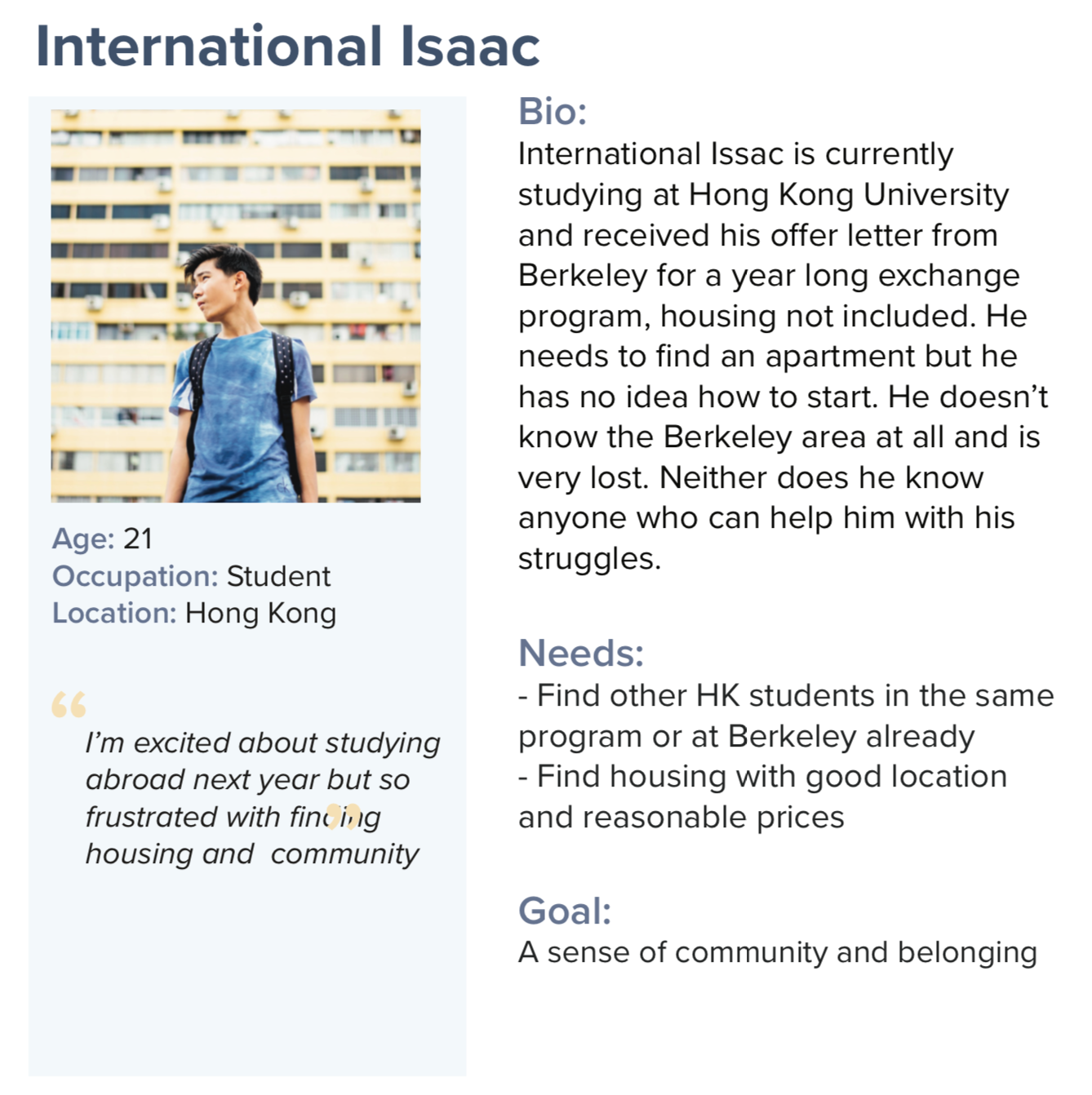 Our ideation process builds off of our previously made persona which lead us to make a how might we statement. We asked ourselves "How might we help new international and exchange students feel more secure about locating housing, and connect them with relevant communities so that they feel more comfortable at Cal?" This allowed us to turn our users needs into opportunities for design in the form of a brainstorm.
First, we brainstormed as many ideas as possible, discussed their usability, cost, and effectiveness, and narrowed down our ideas and focused on one product to flesh out. Then, we created storyboard to demonstrate how our product would be used by our user in an ideal situation. Lastly, we created rough concept sketches to understand how the overall concept would play out on various platforms such as mobile phones and web pages. Both the storyboard, and concept sketches were later used in concept testing.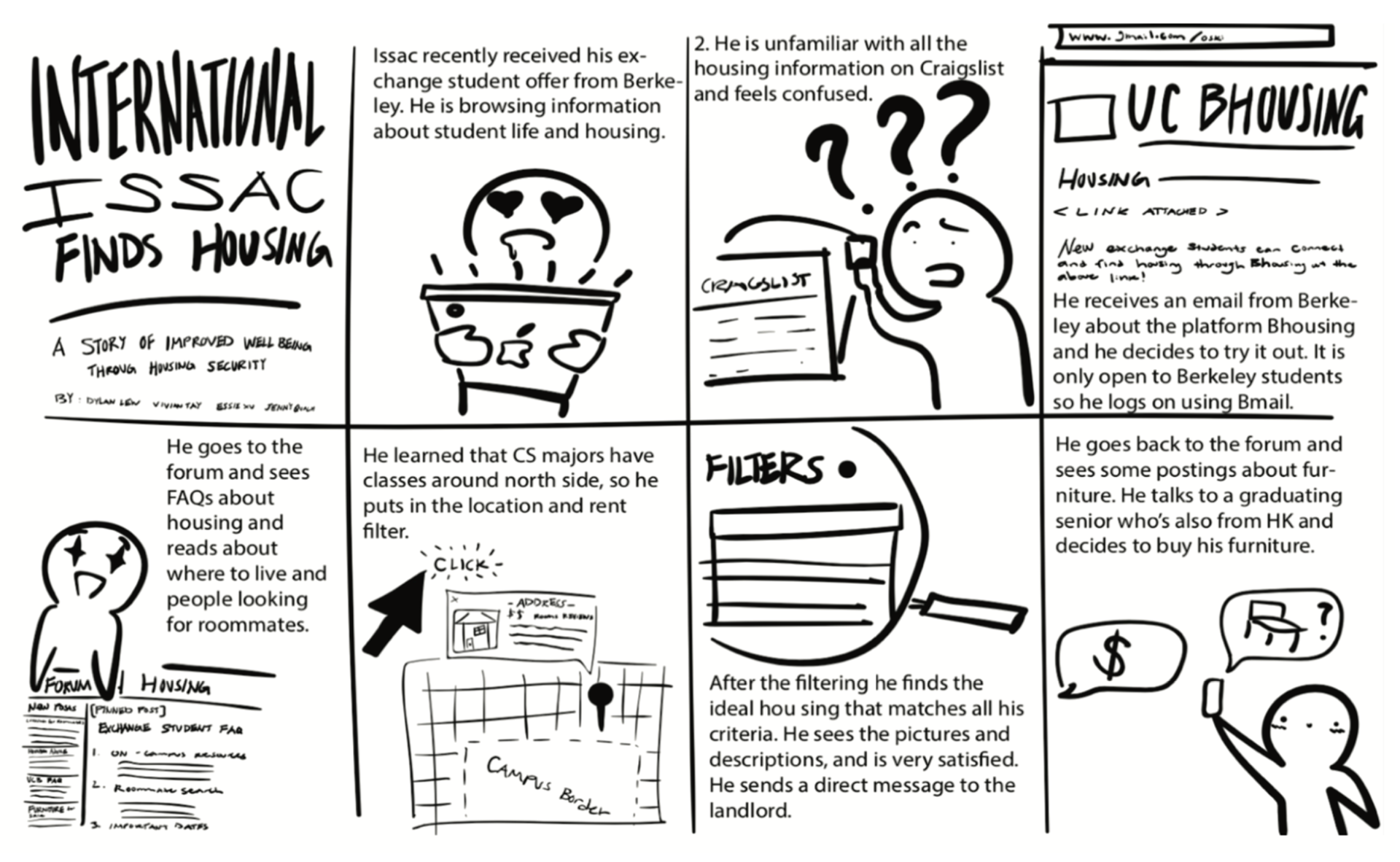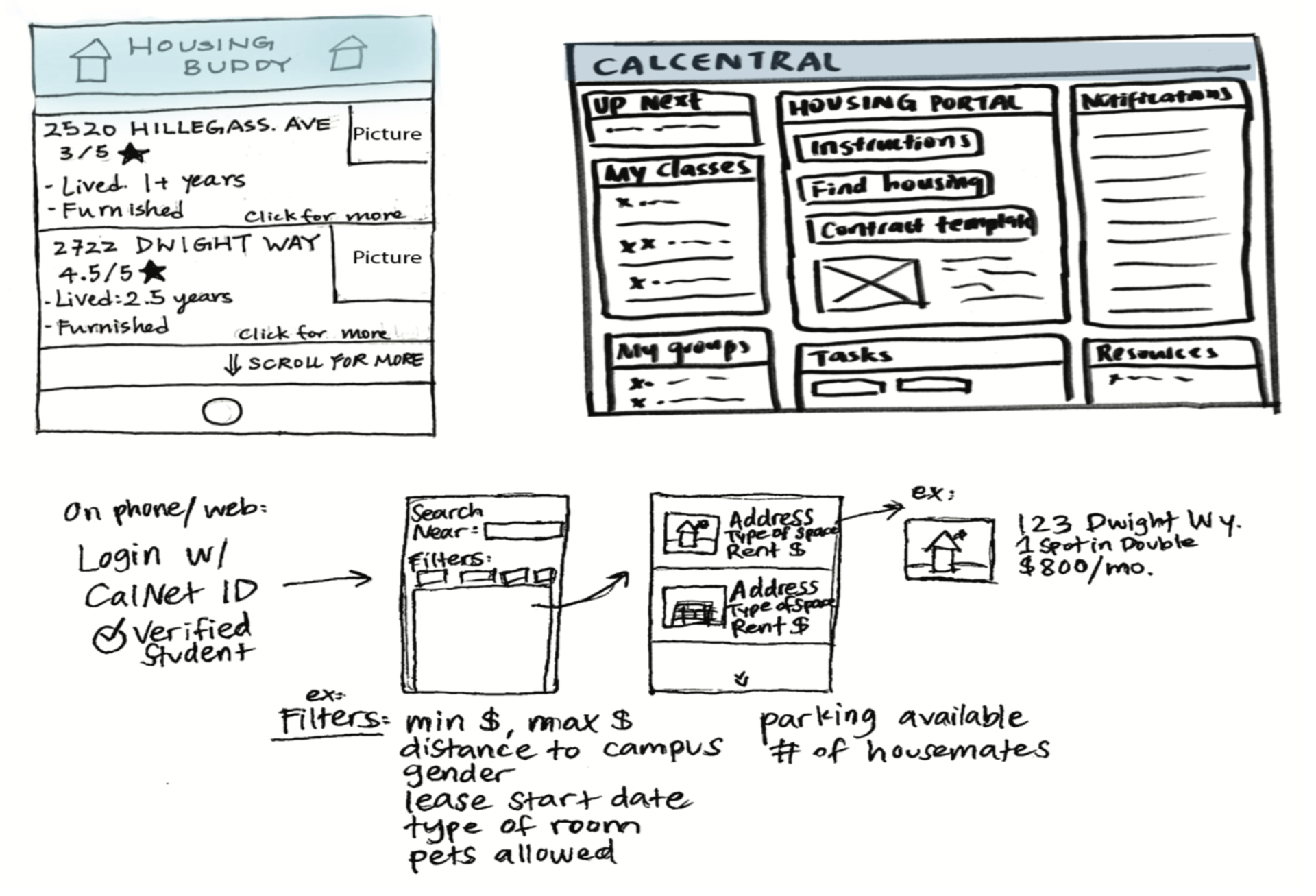 From our brainstorm sessions and sketches, we decided to go with the idea of a centralized housing website with features that help international students build a sense of community. One of the key features that we wanted to implement was a forum that allows people to filter posts based on the home countries of the students who posted. We hoped that by having this, international students would be able to quickly find peers who come from the same country as them, and be encouraged to utilize their native language in discussions on the forum. We believed that this would contribute to an easier time searching for a community at Cal, and give international students a sense of familiarity & belonging when seeing other students use the language that they grew up with.
A. Linking bHousing to student data from CalCentral
B. Conversion of rent prices from dollars to the user's native currency C. Share specific housing listings directly to the forum
D. An "Inbox" for direct messages within the site.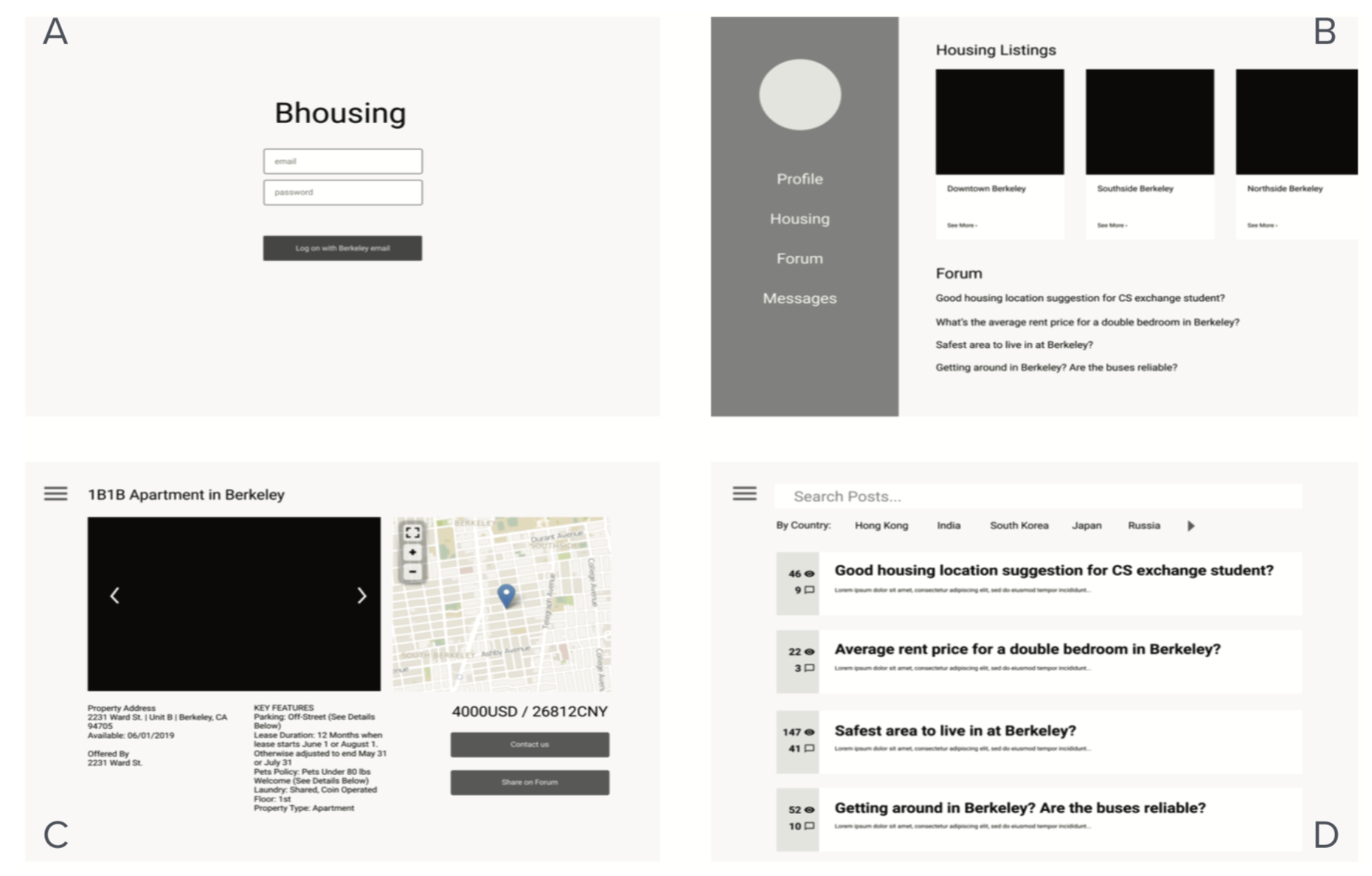 Our concept testing results showed us that while many international students appreciated the features that bHousing offered to make the housing search process efficient, a more pressing need was to 

find a sense of belonging and community quickly

at Cal. They also noted wanting to live with students that came from the same country because they would already share characteristics, so friendships and feelings of trust could develop more easily. One user wanted to have a way to compare several housing listings at the same time as well. A concern shared among all users was how bHousing would incentivize users to use it.
Based on our results, we shifted the focus of bHousing to be less about the housing search process and more towards exposing international students to resources where they could be able to find a community. Thus we created an area for advertisements on the forum featuring Cal student organizations. The advertisement that shows up would vary depending on each user's native country and major (based on their CalCentral profile). The presence of student groups would act as a source of community. We also implemented a feature where students can "Review" properties and share their experiences living there, as concept testing users noted that they trust fellow students above other groups. As for comparing housing listings, we added a feature that would allow the user to "Save" housing listings and compare them alongside each other in a separate window.